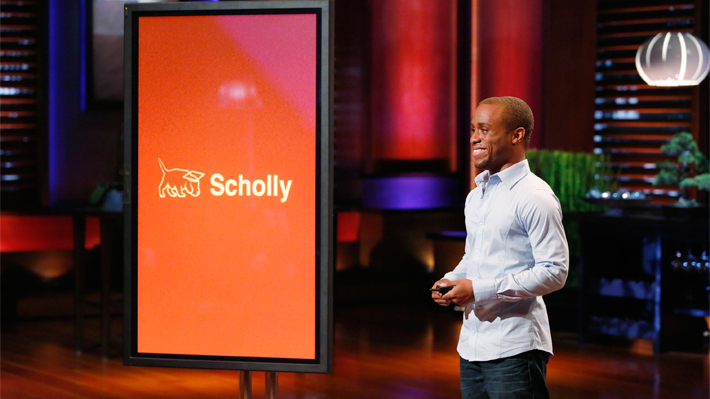 'Shark Tank' Sharks Fight Over Scholly
ABC's teaser for the episode of Shark Tank that featured LeBow entrepreneurship major Christopher Gray and his startup Scholly claimed viewers should "expect a Shark fight." It did not disappoint.
About 40 minutes into the program, Gray strode confidently onto the set and pitched Scholly, which puts a database of thousands of scholarships for high school and college students in the palm of users' hands. He demonstrated to the Sharks that after users provide a little bit of demographic information, Scholly matches them with scholarships for which they qualify. Gray told them he hopes Scholly can solve a little-known problem: many millions of dollars of scholarships go unclaimed each year because no qualified applicants apply.
Watch the full episode (Gray walks onstage at 31:45)
Fairly quickly after finishing up his pitch and ask, $40,000 for 15 percent of his company, Shark Lori Greiner, nicknamed the "Queen of QVC," jumped in and offered Gray exactly what he had asked for. She began to put pressure on Gray to "come with me" and wrap up the deal, without finishing discussions with the other Sharks.
"You know what, Christopher? I'm going to do something I've never done before. I haven't heard a whole lot, but I'm going to make you an offer right now," Greiner said.
Gray tried to buy time by thanking her and telling her he still wants to hear feedback from the other Sharks. A few more questions are asked an answered, but Greiner continues to press Gray to make a decision. The scene was obviously becoming uncomfortable, with several other Sharks apparently unhappy about her aggressiveness. Daymond John, founder of clothing company FUBU, also jumped in with decisive interest, and ultimately he and Greiner offer to go 'halfsies' on Gray's ask: Each would invest $20,000, and they'd share a 15 percent stake in Scholly. Gray took the deal, and the three engage in a happy group hug.
As Shark Tank fans say, Gray 'got two Sharks for the price of one' – their expertise, guidance and connections are considered great assets to the entrepreneurs who sign with them.
After Gray walked off set smiling, the drama among the Sharks escalated.
Shark Robert Herjavec likened Scholly to a charity, and accused Greiner of acting out of emotion without learning enough information about the plan to further monetize the company. He stormed off stage in anger. Kevin O'Leary and Mark Cuban followed shortly thereafter. Greiner accused them of "sour grapes."
An article on Business Insider summed up each Shark's take on the drama over Scholly:
• Lori Greiner: She did nothing out of pity. It can be worth taking a risk without much information because "sometimes it's about helping America and making the world a better place." Everyone else is angry because they were "scooped" out of a deal.
• Robert Herjavec: Greiner is spouting trite nonsense. "We are not the Charity Tank."
• Daymond John: Pity was not at all a factor. The numbers he saw were reassuring enough for him to commit to Gray, because his ultimate investment philosophy is to "bet on the person."
• Kevin O'Leary: It comes down to whether you want to run a business or run a charity. He could not make an informed decision about whether Scholly could be a great business because Greiner wouldn't let Gray talk and "had to force $40,000 down his throat like a goose for pâté."
• Mark Cuban: He finally refrains from biting his tongue after Greiner accuses him of being jealous. "If you really want to help the guy, then learn about his business before throwing money at him, he says. Otherwise just get up and give him $100,000 for the sake of making the world a better place."
Barbara Corcoran, the Shark not in attendance for that episode, Tweeted, "I wouldn't have been sitting there at the end either!"
After the episode, Gray told Business Insider that he wasn't bothered by the argument over Scholly. "I could have easily answered any questions Mark, Robert, or Kevin asked, so their opinions did not bother me … Daymond and Lori gave me exactly what I asked for and were willing to go in together. They are savvy investors who saw Scholly's potential right from the start, and those are the sorts of investors I want."
Scholly zipped to the top of the list of the iTunes Charts – No. 1 most popular paid app after the episode aired.
Viewers local to the Philadelphia area may have also seen the new Drexel LeBow MBA advertisement, which aired during the second half of the episode.