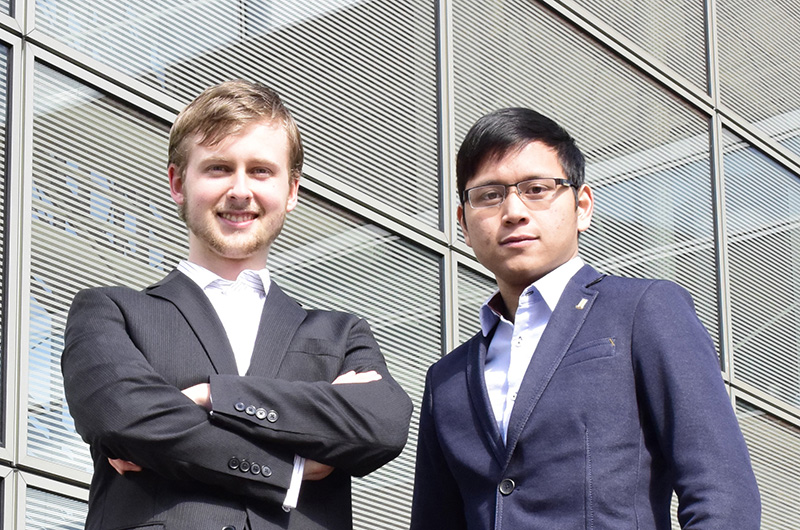 International Students Create Mobile Games for Charity
Huy Dang grew up in one of Vietnam's most underprivileged cities. Arsen Nikiforouk was raised by his grandparents in a rural village in Ukraine.
With their homes a continent apart, it seems unlikely for them to be friends, much less business partners. But that's what they've become at Drexel. And it was their backgrounds — quite different at first glance, but similar in other ways — that helped bring them together. A few years after they came to Drexel, and just a few months after they met, they've started their own charitable mobile gaming company, called Beep Cloud Help.
Nikiforouk and Dang, who each came to Drexel from across the world after being offered a scholarship, both wound up studying finance in the LeBow College of Business. After they met at an on-campus event featuring a Silicon Valley entrepreneur this spring, they learned about a few things they had in common: Each was interested in being his own boss. They both grew up in places where they saw poverty and other problems firsthand. And they both wanted their work to help people in need.
"That's how we decided to do something positive," said Nikiforouk, who along with Dang will begin his senior year in the fall.
They wanted to start their own company, but they wanted it to be centered around charitable work. They knew that mobile technology was a growing field, so their idea was to create a mobile gaming company that would use banner advertisements to raise money for charity.
There was a small hurdle to clear: Neither of them had any experience programming games, or any kind of software. And they didn't have the resources to hire a developer. So they just taught themselves how to do it, over the course of a few months.
"A lot of sleepless nights," Dang said.
In time, they learned enough to create and release their first game, called "Turtle Rock." It centers on a small cartoon turtle that users must move left and right to avoid rapidly approaching horned monsters. Its simple but quick-moving action makes it great for children, Nikiforouk and Dang said.
The game, available free for both iOS and Android devices, also lets users know about its goal of raising money for charity. Dang and Nikiforouk hope that users will feel good about the idea of helping people while playing.
"I think people like our cause," Nikiforouk said. "They want us to succeed."
The results of their first full month in operation offered some proof. They managed to raise $600 in ad revenue, donating half to a campaign by a doctor in Vietnam to provide free health care for children and half to Breastcancer.org.
In the future, Nikiforouk and Dang said, they hope to grow large enough to hire developers to develop more games, including games tailored for the different causes they'll benefit. For now, they're focused on making "Turtle Rock" the best it can be. Android users seem to think it's quite strong already; the game has received 124 reviews giving it an average of 4.6 stars out of 5.
Dang and Nikiforouk plan to keep at their effort after they finish school. They haven't decided yet whether they'll make Beep Cloud Help a for-profit corporation or a nonprofit group in the long term, but either way, they'll be focused on charity. The bond they share from growing up in disadvantaged areas assures this.
"People were struggling every day to make ends meet," Dang said of his hometown.
Dang, in particular, said he hopes to emulate his mother, a doctor who helps treat children from families struggling with poverty. Once, he said, he told his mother that he planned to become successful so that one day she would no longer need to work so hard. But she replied that she would always keep working, whether she needed to or not, because those children would still need help.
Dang and Nikiforouk both said they plan to keep a similar focus on helping others. They even hope that their work inspires others to begin similar efforts.
"We're in probably the only industry that wants competitors," Nikiforouk said, laughing.