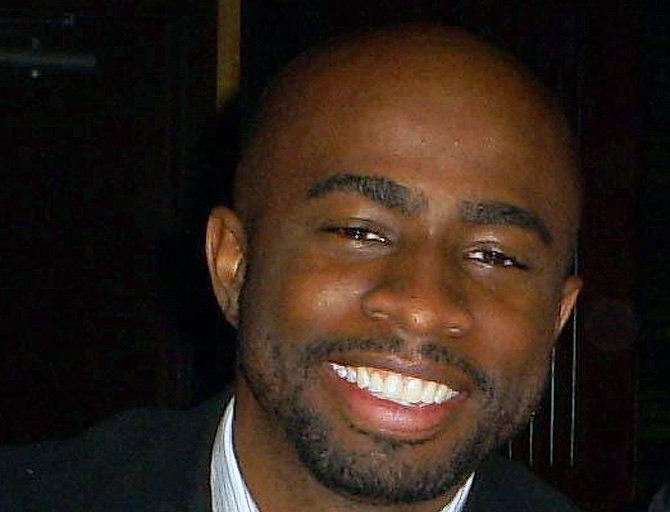 LeBow Author: Yanatha Desouvre '01
Yanatha Desouvre '01, who studied MIS and marketing at LeBow, has co-authored a book with a very unlikely collaborator — his four-year-old daughter, Reanna.

The book, Big Sister, Little Sister, which chronicles the birth of little sister Danielle Nathalia, is among the top titles on Amazon's Hot New Release list in Sibling Relationships — and topped out at number one last week.

Big Sister, Little Sister is a labor of love that was born from Desourvre's iPhone. Sitting in his family living room, Desouvre began transferring pictures of his daughters onto his computer. As each picture flashed on the screen, Desouvre asked Reanna to describe the scene. Her words, which tell a tale of friendship and love between siblings, developed into the narrative. All dad had to do was compile everything and make a few edits for his young authoress.

A native of Port-au-Prince, Haiti, who came to Philadelphia by way of Brooklyn, NY, Desouvre is an accomplished mobile application developer who earned his MBA in marketing and mass communication from Lynn University in 2010. Currently, he is pursuing his Ed.D. in higher education at the University of Pennsylvania's Graduate School of Education.

Desourvre credits Drexel LeBow's MIS program for teaching him the business side of technology and his marketing studies for helping him build his online footprint and making Big Sister, Little Sister his best-selling book to date (this is his fourth).

"I am very proud to be a LeBow College of Business graduate," Desouvre says. "Every time we pass Drexel University, Reanna says 'Daddy, I am going to Drexel like you.' That brings such a huge smile on my face."


As for Reanna, who turns five in May, she is now learning how to write. She has even autographed a few books for her mother, Amy, and her proud co-author.

"Her trademark is a happy face with a moustache for Dad and a head of hair for mom," Desouvre says.

Just think what Reanna will accomplish by age six.


---

Sweet tooth
He's an admitted ice cream connoisseur with a predilection for rum raisin and coconut.
He has an app for that
Desouvre has engineeered several successful mobile apps, including: "Pre-K Math," "Proud to be Haitian," "Proud to be Jewish," "Kids Eat Free HD," "Pocket Poetry," and "I Love My Dog."
A Man with a Plan
"My life's theme is to positively impact your life by empowering others so that we can uplift one another through our daily challenges," Desouvre says. "I choose to see my challenges as an opportunity for growth."