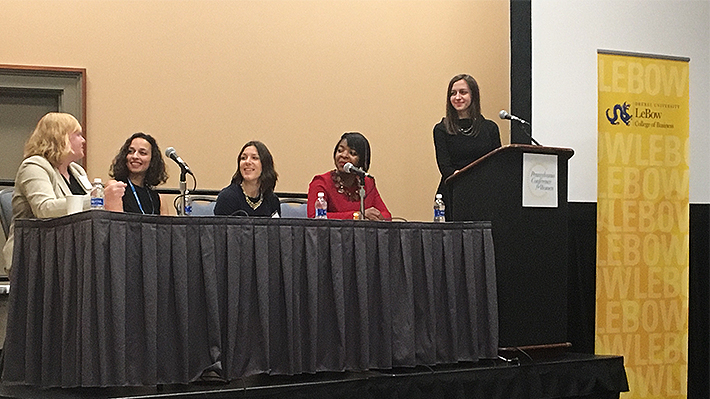 Promoting STEM Careers at Pennsylvania Conference for Women
To kick off the programming at the 2017 Pennsylvania Conference for Women, Drexel LeBow welcomed a room of professional women to discuss business and STEM with a panel of academic and industry speakers.
Aligned with LeBow's expertise at the intersection of business and technology, the conversation centered on developing strategies for succeeding in STEM (Science, Technology, Engineering, Mathematics) fields that are perceived to be male-oriented. Moderated by Diana Jones, LeBow's associate director for experiential learning, the discussion highlighted the professional experiences and expertise of Yasmine Ndassa, senior director for business process analytics at Comcast; Danielle Marino, assistant director for STEM programs at The Franklin Institute; Elea Feit, assistant professor of marketing at LeBow; and Yasmine Mustafa, CEO and founder of ROAR for Good.
Panelists shared their diverse personal experiences and interests that led to their career trajectories and current roles. Mustafa shared that she began her STEM career after enrolling in her first coding class with the original aim of automating her blog and building a website. She went on to found her company armed with a fascination for using technology for good. "Technology is used to make people see again, walk again, hear again; I realized that's the field I wanted to be in," she said.
For Marino, an important part of STEM advocacy is helping young adults from underrepresented backgrounds envision themselves in these types of roles in the future. "Students think they need to choose one or the other: either 'I like STEM' or 'I like art.' There are different intersections of these fields that students don't often consider," she explained. "It may be something like kinesiology and how it relates to dance."
"We want to encourage the holistic aspect of STEM," said Ndassa. "You can be interested in both math and fashion. That's OK. That psychological dilemma is sometimes part of the reason why women shy away from STEM." Feit agreed, adding that the enjoyment of fields such as mathematics should be a norm for female youth. "If you can get in their head that liking math isn't something weird for them, that this is part of their character, that will carry them through to their freshman year of college when they walk in and they are the only woman in the room."
And for women interested in pursuing a STEM career who may not know the first step? The panelists suggested exploring networking and meetup groups, talking to someone already in the field and identifying areas of interest. "You want to determine what aspects you want to be involved in," said Ndassa. "You don't have to be a technologist to work for a technology company. You might be working in human resources at a technology company, enabling you to learn more about the field."
The conversation set the tone for a theme that would run through the daylong conference. It continued in the Drexel LeBow Career Pavilion with "Getting to the STEM of It: Today's Experiences for Tomorrow's Careers," a discussion of future careers in STEM for high school students.