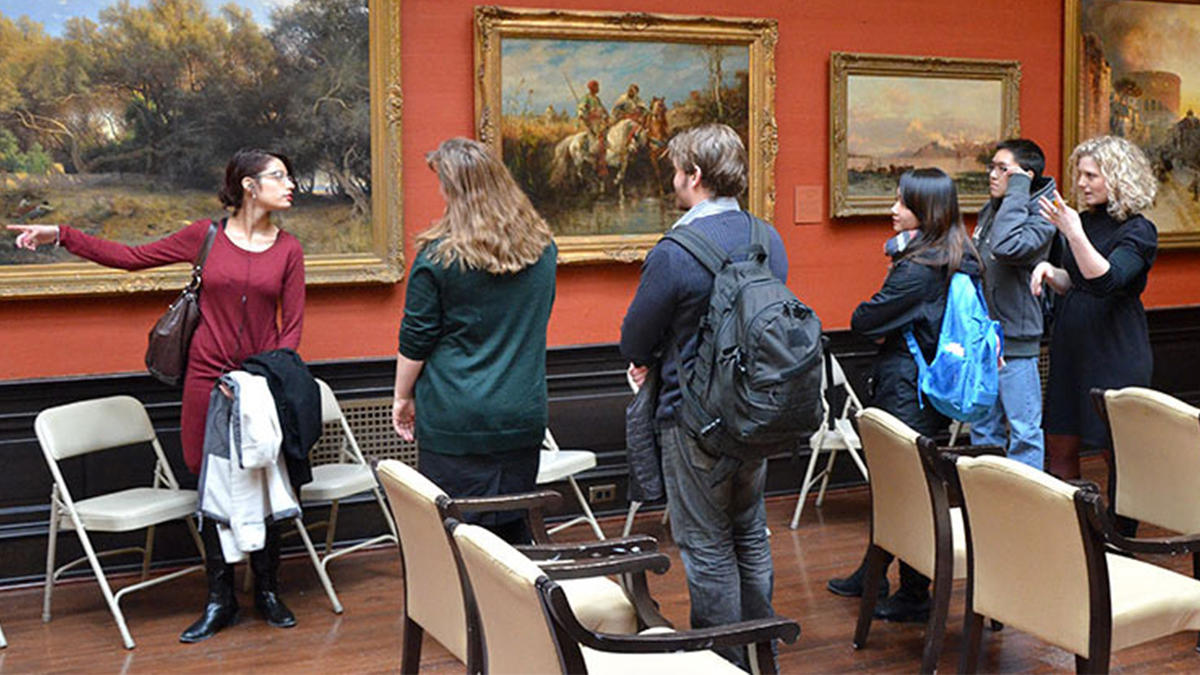 Seeing More, Modelling Better: LeBow Faculty Innovate in the Classroom
During fall term, LeBow's Center for Innovation in Teaching and Learning announced the recipients for its inaugural awards for Innovation in Teaching.
"I'm thrilled to recognize these individuals and hope that these awards will generate more conversations among faculty and staff about innovative practices in the classroom, the problems that they are solving and the impact they are having on our students and on the College," says Stacy Kline, CPA, assistant dean for teaching and learning.
The honored faculty members, who received a $500 prize along with the award, provided their insights on the courses for which they were recognized and the novel approaches they took in providing valuable skills to LeBow students.
Maureen Breen, associate clinical professor of accounting, turned to an unlikely source of inspiration for accounting studies: visual art.
"I am the only person to have used the Drexel Picture Gallery, found on the third floor of Main Building, to teach the skill of critical visual analysis. I was inspired to do this in my Audit (ACCT 341) course after I read Visual Intelligence by Amy Herman. Though she focuses on law enforcement and medical professionals, I saw an application in Audit.
"Students in ACCT 341 in fall and spring terms tour the Drexel Portrait Gallery to apply the techniques from Visual Intelligence. These are techniques that use the study of art to improve critical visual analysis, and this forms the basis for looking critically at data visualizations — a much-needed skill. This makes students aware of seeing as a critical thinking skill. While we are increasing the creation of data visualizations, I think there is a need to increase the ability to read them. Students usually have not given thought to critical looking until they are required to apply the skill to art. With this new awareness of visual impressions as communication requiring a critical eye, students are better prepared to enter a business world full of data visualizations."
Christopher Laincz, PhD, professor of economics, piloted a one-credit course utilizing a "flipped classroom" model, with class time devoted to collaborative work instead of explanatory lectures. By reinforcing mathematical concepts from introductory economics courses, this course helped students perform better in intermediate-level ones.
"The concept grew out of work that Yoto Yotov, PhD, professor of economics, and I did in re-examining our Principles of Microeconomics and Principles of Macroeconomics courses. From several undergraduate focus groups and our faculty colleagues, it was clear that there was a gap between the principle level and the intermediate level and, for a number of reasons, many of our students were not being given an adequate grounding in the modeling and math concepts needed to thrive. Asking students to review the mathematical appendices included in most intermediate economics textbooks was similarly inadequate. The faculty were also frustrated, feeling that too much time was spent covering basic calculus and optimization rather than economic ideas and intuition.
"For this particular problem, the clear need we saw was introducing math modeling skills to help students bridge two gaps: between the introductory and intermediate level economics, and between math courses and economics courses. Learning to use the math tools, understanding models and interpreting them in an economics context were the primary goals, but the course and manuscript were deliberately structured to be unlike a math textbook and different from most of the mathematical economics books that are out there.
"We felt that a one-credit course is less of a risk to a student's GPA or schedule, and so we settled on this course, run as a flipped classroom with no exams or quizzes, just homework and attendance. That allowed the students to focus on learning and understanding rather than cramming for grades. The course was also completed in only 5 weeks. That short length allowed us to cover the material for students simultaneously enrolled in ECON 301 where they are encountering these concepts.
"More broadly, I think the course structure provides a model for the College in how to deliver certain key elements where we want our students to do better but without creating lots of extra pressure on the students and too many additional credits that would make their plans of study even more challenging than they already are."