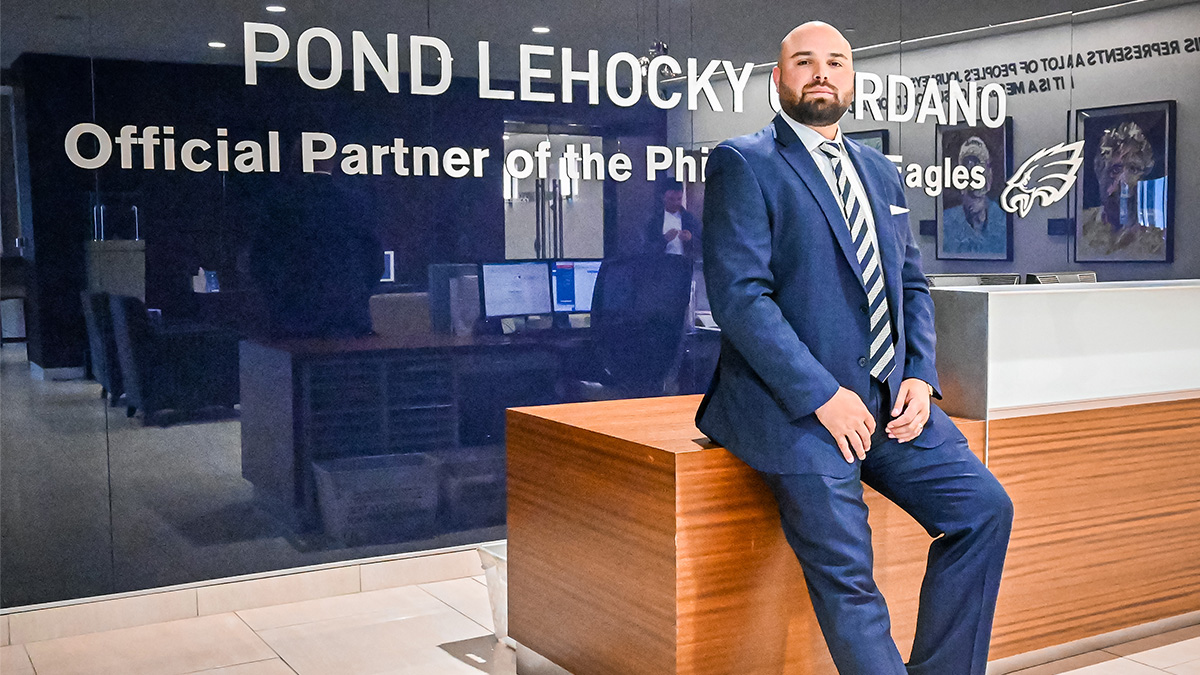 Shawn Lehocky, MBA '23: Forming Connections and Embracing Analytics on the Path to Becoming CEO
If you've driven any of the major highways around Philadelphia, you've seen their billboards: Pond Lehocky Giordano, a law firm that assists people with all of their legal needs, especially their workers' compensation, Social Security Disability, short- and long-term disability, and personal injury needs.
Advertisements for big-name law firms might be a common sight, but Pond Lehocky Giordano manages to stand out: "Tell us your story," their ads state.
Underneath this personal touch, there are other surprises: The firm's founders and current partners are all lawyers, but it's led by a C-suite team of non-lawyers, including CEO and LeBow MBA graduate Shawn Lehocky, MBA '23.
Lehocky, whose uncle is one of the firm's founding partners, grew up and attended college in western Pennsylvania and was first introduced to Drexel and LeBow through senior partner Sam Pond, BS Finance '81. After initially attending meetings with Pond at both LeBow and Drexel's Kline School of Law, Lehocky and other executives made the case to continue their education in LeBow's part-time MBA program.
They secured the firm's support for their tuition, and Lehocky, at the time the firm's chief strategy officer, began his MBA studies alongside Chief Financial Officer Bryan Reilly and then-Chief Operating Officer Jackie Donovan.
"It really started with having a firm that believed in the role of the non-lawyer. Sam is very entrepreneurial-minded, and he invested in the company's C-suite getting an education," Lehocky says.
Reilly adds, "Even at a young age, both of us were committed to growing with Pond Lehocky Giordano," We both thought of an MBA as a way to satisfy our desire for learning and self-growth, and we thought that having this additional knowledge and experience would allow us to impact our company and grow it to the levels that both we and the partners want to see."
Lehocky recalls two MBA classes — a negotiations course and another involving case studies of businesses that had failed — as particularly influential in his development.
"After being at the company for so many years, you get in your own world and don't really think about other businesses," he says of the latter course. "That class forced me to look at other companies and take what we learned from other people's business decisions, which is a really valuable tool."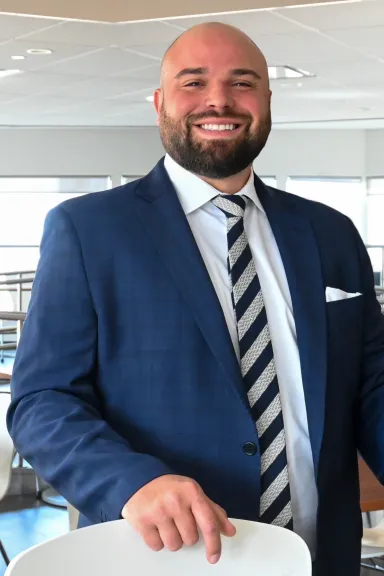 A New Era of Engagement
With Lehocky completing his degree earlier this year, his student era has come to an end, but his involvement, and his firm's engagement, with LeBow has entered a new phase.
Starting in 2017, Pond Lehocky Giordano has partnered with LeBow's Center for Business Analytics to offer data-driven consulting courses at both the undergraduate and graduate levels. This ongoing partnership extended to winter term 2023, with a business consulting course offered through the Dornsife Office for Experiential Learning, that Lehocky says represented the culmination of a years-long collaboration between LeBow and his firm.
"All the projects have led up to this one," he says. "It's the first time where students were directly communicating with our clients. When someone else is talking to your clients, it's a huge commitment from a business standpoint, but we have the level of trust that it's going to be done well."
In a graduate level course taught by Associate Clinical Professor of Management Cuneyt Gozu, PhD, teams of students surveyed multiple audiences, including previous clients of the firm as well as Philadelphia-area residents and national audience with no prior knowledge of the firm.
"We looked at the journey of the Pond Lehocky customer: Where do they come from? What do they want? What do they know?" Gozu says, adding that "Shawn and his team were very open and supportive in all their interactions."
Ksenia Gal, MS Economics '23, felt that she and her classmates were engaged in meaningful work that Lehocky and other firm leaders really valued.
"We looked comprehensively at different areas of the client's business: customer satisfaction and retention, acquisition of new clients and competition with other companies," she says. "Each part of our report included detailed and specific recommendations, and I believe that the firm was very satisfied with our work."
Connecting at Every Level
Lehocky took a business analytics concentration in his MBA, and that focus has brought about an increased use of analytics in the firm's business operations. In his office, two large TV monitors provide real-time statistics on incoming requests and client intakes, and the firm's attention to metrics like tracking leads and keyword performance has resulted in higher conversion rates in providing services to those who make inquiries.
"There's two types of clients for a law firm: there's one that knows they have a case and need a lawyer, and ones that just need help and don't know what to do," he says.
In the latter case, "they're in one of the worst places of their life: they're in pain, they can't work, they can't support their families, and they have no idea what the legal system looks like.
"We can compete with other law firms for the ones who know what they need, or we can educate the other 50 percent that give us all this information but have no clue what to do with it."
Lehocky credits his MBA studies, and the concurrent analytics projects with LeBow students, with teaching him "how to speak a certain language that I'm not sure I would have gotten on my own."
"Not only can I do the work, but I can be a translator between software developers and businesspeople. I've been able to do a lot of innovative things in the business by empowering software and data analytics people and by being that Rosetta Stone."
He's also seen LeBow students, through the corporate experience they gain from industry collaborations like these and, for undergraduates, from their co-op positions, gain a similar facility in speaking the language of business.
"They're comfortable being in the business setting already, and when they hear me and my team break down an issue, they hear it in a real-world sense, not from a textbook.
With each project, he says, "I'm sure they're going to come up with ideas we've never thought of."