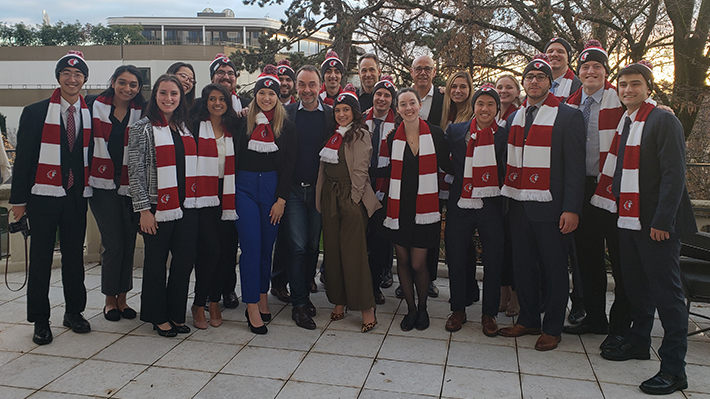 Sports and Entertainment Project Wraps Up with European Trip
After final exams ended, work wasn't complete for one group of Drexel students. As the final component of an international business consulting course, they spent part of their winter break presenting to one of the world's largest sports and entertainment companies.
Students enrolled in International Business Consulting (MGMT 380), taught by Christopher Finnin, EdD, clinical professor of general business, spent the fall term developing business solutions for AEG, a global sporting and entertainment organization. Their projects focused on a new arena opening for the Lausanne Lions Hockey Club (LHC) in Lausanne, Switzerland. Students formed teams to conduct research and develop recommendations for Lausanne's new arena, prioritizing three areas of focus: venue transition, additional revenue opportunities and strategic partnerships.
As part of their research, the class met with executives from Philadelphia's Wells Fargo Center, home to the 76ers and Flyers, to gain insights into the operations of sport and entertainment venues.
At the end of the course, students traveled to Lausanne to present their recommendations to AEG and LHC executives, including Drexel alumnus Rich Krezwick, a 1981 graduate and senior vice president with AEG and a member of LeBow's Sport Management advisory council.
"I went into this project hoping to get some useful information from the students' report. I'm very pleased to report that the entire experience exceeded my expectations," he says. "The students used a fresh and contemporary approach to their thinking that was really enlightening. Their enthusiasm and dedication to the project was very, very impressive."
While in Lausanne, the class also visited the headquarters of the International Olympic Committee for a presentation about brand management and a tour of the Olympic Museum.
After the students wrapped up in Switzerland, sports also played a role in the next leg of their trip: Rome, home of one of the oldest sports venues in the world – the Colosseum. A visit to Italy's capital provided an opportunity for the class to visit Daniel Korschun, PhD, associate professor of and Stephen Cozen Research Scholar in Marketing, who was teaching at Libera Università Internazionale degli Studi Sociali Guido Carli (LUISS) through a Fulbright award. Professor Korschun invited Italian business students to a joint class to discuss differences between American and Italian business culture and practices.
Jenny White, a senior sport management major, said she enjoyed being able to apply her in-class learning in a real-life setting. "It is certainly not every day that you get to work with a major sport and entertainment company like AEG," she says. "Even if you are not studying in the field the company works in, there are many aspects of a project like this that can be transferred between industries."
For Jarvis Zhang, a sophomore majoring in finance, business analytics and economics, the experience changed his perspective dramatically. "It completely transformed my ability to take ownership on projects," he says. During Zhang's recent co-op interviews, he recalls that "when interviewers asked 'what sets you apart from your competition?' I always used examples from this course to show that I have the experience of working in a team to prepare C-suite-level presentations."