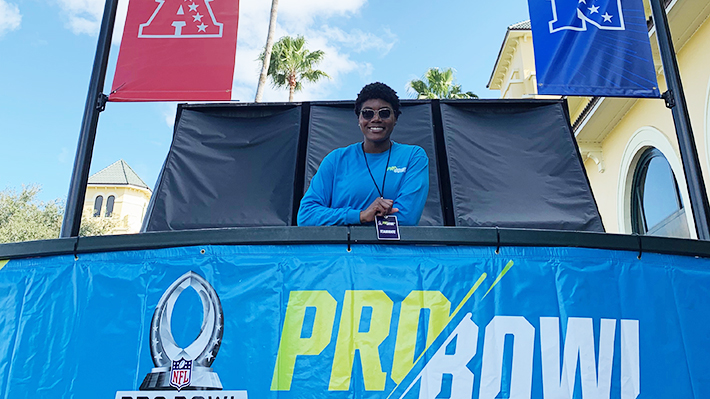 Sport Management Student Tackles the Pro Bowl
Bringing together fans, athletes and sports industry professionals from across the country, working the NFL Pro Bowl is the dream of any sport management student. For Ariana Palmer, the experience proved to be much more than the all-star weekend she had hoped for.
Palmer wasn't sure what to expect when she landed in Florida for this year's Pro Bowl. Entering as a volunteer, she was assigned to work to improve the fan experience and help manage the Fan Mobile Pass – a phone application that guides you through the weekend's activities and a map of the complex – by getting to know fans at each of the events and discover their favorite players and teams.
Outside of the fun and games taking place at every turn, Palmer – along with Pro Bowl players, local athletes and other sports industry professionals – gave back to the community by taking time out of the festivities to help prepare 1,500 meals for the Central Florida Food Bank.
Though the weekend allowed Palmer to rub elbows with stars, Palmer says the true standout moments were when she was able to connect with peers. "I was able to meet sport management students from across the country and got to engage with them in conversation about their experiences and coursework at their schools. Although we're all from different places, we all had a common interest: the love of sports."
Palmer says she looking to replicate the one-of-a-kind experience by volunteering again next year.