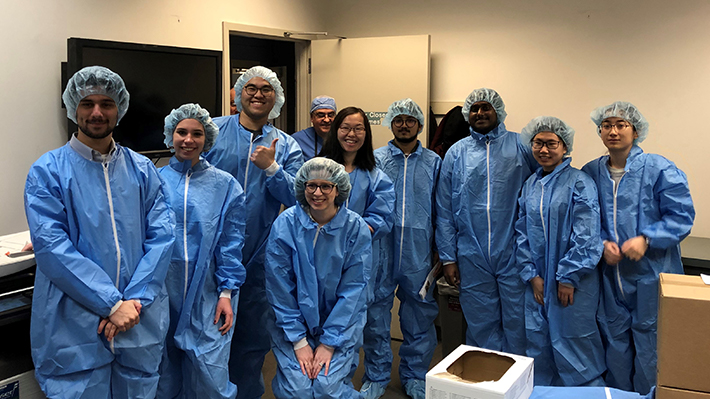 Supply Chain Management Hits the Road for On the Ground Learning
Two recent site visits for students in the MS in Supply Chain Management program exemplify the value of experiential learning: education outside the classroom, on the ground and, in some cases, in the warehouse.
These two visits, held in March and April, reflect LeBow's longstanding academic-industry partnerships and illustrate the business applications of technologies employed in the classroom.
In March, students from the undergraduate, MS and PhD programs visited two businesses based in the Lehigh Valley region of Pennsylvania, KIND Snacks and the Lehigh Valley Health Network (LVHN), to explore supply chain concepts within the healthcare and food industries. At LVHN's Cedar Crest location, students met Bill Matthews, CPO and Vice President of Supply Chain, and his team, and toured the hospital system's Supply Distribution Services and PeriOp (perioperative) areas. Their visit to KIND Snacks' facility in Kutztown included meeting with Paul Myler, VP, Supply Chain and Jim McMenamin, Director of Logistics, and touring their warehouse.
Associate Clinical Professor of Operations Management Min Wang joined the students on the Lehigh Valley excursion – her first site visit since coming to LeBow in 2011. "I am quite impressed by the value of the experiential learning delivered through these site visits in just one day," Wang says. "Students saw firsthand the impact of operations and supply chain decisions: the medical supply in the inventory room ready to be picked up by nurses and the pallets of KIND snack bars at the warehouse to be shipped out to retailers."
Like many people, Wang says, students either thought supply chain management matters only to manufacturing firms, or they did not realize its critical role in service organizations like hospitals. The trip seemed to change those perspectives. "It was eye-opening for them to learn about the responsibilities of the supply chain group at Lehigh Valley Health Network," she says. "Our hosts also explained that the ability to communicate the value of your work to people outside this area – such as doctors and executives – is at least as important as the supply chain knowledge and skills."
Later in the spring, another group of students, mostly from the MS in Supply Chain program, visited two New York-based companies, Harry's and Warby Parker. The two companies share a co-founder, Jeff Raider, a strong online retail presence and a young, hip aesthetic. Students toured both companies, meeting employees working in sourcing, distribution, R&D at Harry's and in supply chain strategy, analysis and optimization at Warby Parker.
Jingxian Zhang, an MS in Supply Chain Management student, says both site visits fueled discussions afterward, as well as a class assignment. She noted that the two New York companies have similar business models but are at different stages in their growth.
Like her professor Wang, Zhang came away from the experience impressed and surprised. "I never heard about a hospital's supply chain system before," she says. "They deliver the medicine from warehouse to hospital ward by robot and pipe – it's amazing."