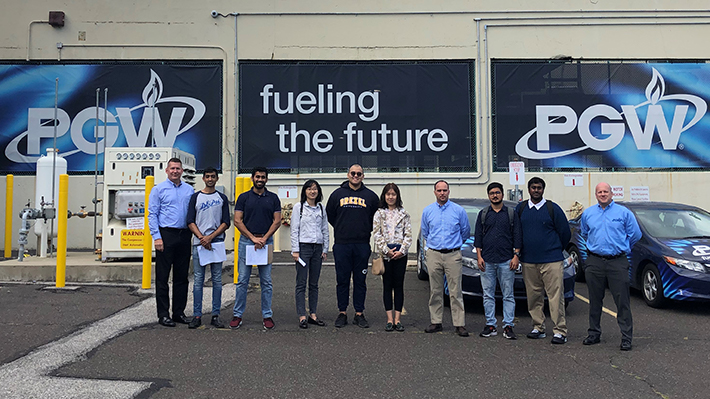 Students Present Supply Chain Insights to Major Gas Utility
Before closing their graduate chapter at LeBow, seven MS in Supply Chain Management and Logistics students culminated their degree program by consulting for a company that serves 500,000 Philadelphia customers each year.
With guidance from Christopher Gaffney, PhD, assistant clinical professor of Decision Sciences and MIS, students collaborated with Philadelphia Gas Works (PGW), the largest municipally owned gas utility in the country, to develop models and provide insights related to the company's vehicle fleet inventory. Following a consultation with the company at the start of the winter term, the students visited PGW's North Philadelphia fleet building, adjacent to its corporate headquarters, for a tour of the fleet storeroom and a briefing on fleet and materials management operations.
The ten-week capstone course provided an opportunity for the students to apply a research lens to real-world business problems.
"The project involved research, data analysis and multiple touchpoints with PGW," said Tanuj Athavale '20, a member of the student team. "The most exciting part for me was developing a unique decision support system that not only addressed a current challenge but may help with future initiatives as well."
The course highlights the central focus on experiential learning in the MS in Supply Chain Management and Logistics program and the integration of business consulting projects within the curricula. Through the College's Dornsife Office for Experiential Learning, students work with organizations such as Comcast, Harry's, the Lehigh Valley Health Network and AmeriGas through consulting, site visits and student competitions. This approach to collaboration equips students with techniques and skills to help organizations become more efficient and effective along their supply chains. Earlier capstone courses in the program have engaged companies in the transportation, pharmaceutical, procurement and life sciences industries.
Professor of Decision Sciences and MIS Murugan Anandarajan, PhD, who led the development of the Supply Chain program in 2016, notes that its evolution has been enriched by relationships with prominent companies like PGW, whose involvement influences curricula and strengthens student talent for prospective employers.
"Whether the students are tackling inventory optimization, product sourcing or digital supply chains, it's powerful to see the theory learned in their coursework come to life," Anandarajan said.
To conclude their capstone experience, students presented their work to PGW's supply chain team: Vice President of Supply Chain Anthony Mauro; Director of Materials Management and Fleet Ken Foran; Senior Buyer Rachel Crusco; Inventory Supervisor Edith Aponte; and Fleet Operations Manager Jim Sawka.
"It was a win-win situation — giving the students a real-life problem to solve and providing PGW with resources to help optimize its fleet inventory," said Mauro. "I was impressed with the students' enthusiasm and creativity, and we're currently using the model that they developed to set our stocking requirements for our fleet parts inventory."