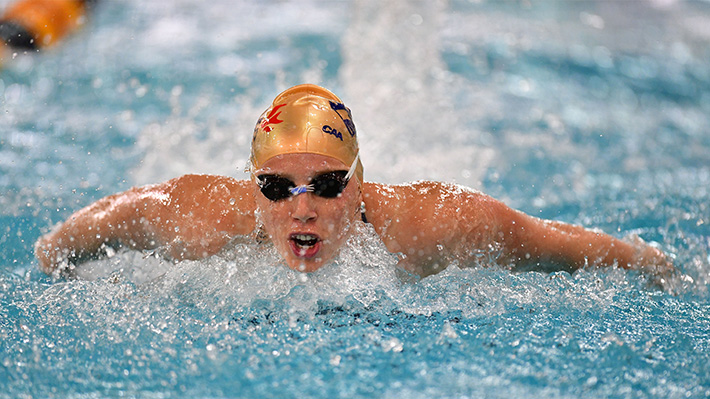 Swimming and Studying: A PhD Student's Unconventional First Year
Tanja Kirmse is far from a typical first-year PhD student. A native of Landshut, Germany, she came to the U.S. at age 16, having graduated early from high school, and went on to complete an undergraduate degree in finance and accounting from Saint Bonaventure University and an M.S. in finance from Vanderbilt University.
She arrived at LeBow to start her PhD studies at age 20, and during fall quarter, she worked as a research assistant for Dr. Ralph Walkling, Christopher and Mary Stratakis Professor in Corporate Governance and Accountability.
She's now assisting with Walkling's Executive MBA class, Mergers, Acquisitions and Corporate Governance, and as she wades further into the intensive research that is the hallmark of PhD study, Walkling says she's "getting into deep water."
Kirmse is well-equipped for that as well: outside of her academic work, she's a member of the Drexel women's swimming and diving team. In fact, during her first quarter at Drexel, she set three school records, and she capped her year with a gold medal in the 200-meter fly at the Colonial Athletic Association (CAA) Championships on February 17.
"There was one personal best time, and two that were very close to my best time," she says. "I did not expect that at all."
Having finished her undergraduate degree in three years, Kirmse had one year of NCAA eligibility remaining. After taking a year off from competitive swimming during her studies at Vanderbilt, she looked for schools with strong business programs as well as Division I athletics. Drexel and LeBow both turned out to be good fits.
As a swimmer, Kirmse regularly competes in the 500-meter freestyle, the 200-meter freestyle and the 200-meter fly, and she was named CAA Women's Swimmer of the Week in advance of the team's Senior Meet on January 13. Throughout this year, she has balanced practice and travel to meets in balance with reading and studying about 70 hours a week.
Kirmse is also the recipient of the Ronald and Alice Chung Scholarship in Financial Innovation and Technology, the first scholarship established for PhD study at LeBow. "I'm very lucky to have it and to receive that financial support," she says.
Named for and endowed by two PhD graduates, the scholarship emphasizes innovation and the use of technology within the field of finance. "It is our belief that being able to give is a blessing," says Dr. Chung, who completed his PhD at LeBow in 1992 before founding an executive-education consulting firm. He adds that the scholarship "can help the recipient, help Drexel to attract quality candidates and, hopefully, help society by having research output that can contribute to knowledge and practices."
Kirmse continues to build on her research skills, as she works on replicating a previously published study this quarter, an exercise Walkling calls "a really tough task."
"She has to transform the data into something machine-readable," he says. "She's really able to tackle multiple things, and I think she's grasping things very well."
Kirmse is embracing this challenge. "I like learning all the things behind how things work and, so far, I've enjoyed research and writing papers," she says.
Her successful balancing of academics and athletics seems almost like second nature. "Diving deep, not giving up and striving for improvements," Dr. Chung says, "are, of course, traits of PhDs."