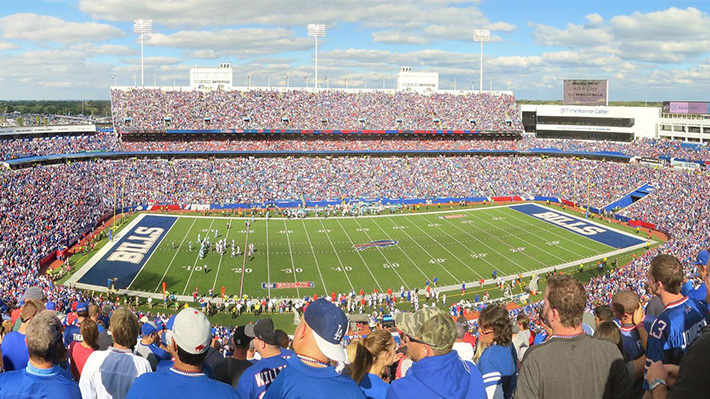 Why Pay for a Professional Sports Team's Stadium?
Last month, the Buffalo Bills, the National Football League (NFL) team in Buffalo, New York, agreed to a 30-year lease on a new stadium in the city after much publicized back and forth with Erie County and New York State. Erie County will contribute $250 million, while the state proposed $600 million in the budget for the stadium – upsetting New York residents. A recently released Siena Research Institute poll revealed 63% of voters oppose the $600 million from the state.
In addition to the Bills, a number of NFL teams – such as the Washington Commanders, Denver Broncos, Tennessee Titans, Kansas City Chiefs and Chicago Bears – and other professional sports teams like the Oakland A's and Los Angeles Angels of Major League Baseball, are considering renovating or building new stadiums.
Joel Maxcy, PhD, professor of sport business and department head of sport business and general business, shared insight into the actual local economic impact of a professional sports team.
Q: Are there economic benefits for cities or communities where a professional sports team plays?
JM: Most of the economic benefits are intangible. For example, civic pride in the team, good feelings for fans, a top-level entertainment option, etc. These benefits are all enhanced when the team is winning. Buffalo, New York is a rust belt city that has been in relative economic decline as long as the Bills have been there. But the Bills bring a large part of the Buffalo, Erie County and Western New York population something to feel good about, something to talk about and enjoy with friends and family, and a connection to the rest of the country and "NFL Nation." Doubtless there would be much despair if the region lost its team to a better stadium offer from another city. However, translating intangible benefits to financial values is a difficult proposition.
Q: Is it possible to fund new stadium projects without public funding?
JM: Yes, most stadiums and arenas built before the 1950s were privately funded and there are current and local examples to this day. The Wells Fargo Center in Philadelphia was privately financed. However, even if the construction costs are privately financed there is usually public support and spending on additional infrastructure – like additional highway exits or subway stops and public safety around events. One advantage of public funding is that the local government has more control over the stadium's location, which is important.