Academic Director of the Doctorate in Business Administration (DBA) Program; Provost Distinguished Research Professor, Professor
Decision Sciences and MIS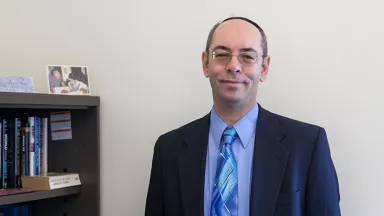 Biography
I joined Drexel in 1997, and am now the Provost Distinguished Research Professor. My research deals with interpersonal trust as it relates to the development and implementation of IT, management of the outsourcing of IT contracts, research methodology and especially covariance based structured equation modeling, and, recently, text analysis. That research has been informed by my experience in the industry prior to being an academic. The research findings of those streams of research have been published in some of the leading business journals, including MISQ, ISR, IEEE TEM, JMIS, and Omega. I am also the author of a textbook on VB.NET Programming and Outsourcing and a book on the Art of IS Outsourcing.
According to Scientific Index 2023, my research places me as ranked in the top 3,900 among the over 1,300,000 scientists, in top 0.3%, in the list that "indicates that the scientist is among the World's and/or Country's Top 2% Scientists in the specified rank" (https://www.adscientificindex.com/scientist/david-gefen/1299751)
According to Research.com my research is am ranked #703 in the world research.com/scientists-rankings/business-and-management and #331 in the US : research.com/scientists-rankings/business-and-management/us.
According to https://eller.arizona.edu/sites/default/files/AIL-H-Index_MIS_March2022.pdf I am among the top researchers in MIS.
According to https://elsevier.digitalcommonsdata.com/datasets/btchxktzyw/5 I am ranked 6,877 among 9,071,122 scientists across disciplines and am the 9th most cited in Information Systems through 2021.
In my previous life I worked many years for a software development and implementation vendor whose specialty among other things was large logistics systems. I held many positions in that company. I was a senior software programmer designing, writing, and implementing critical business systems, and then a chief programmer whose responsibilities included being the one who designs how the components of a new system join together. I was also a systems analyst of the core section of a very large logistics system that we developed for a client, and, in that capacity, was one of the core team leaders of that project. After we released the project I was asked to stay on to manage its maintenance, which perhaps is better described as continued development. After some years in that capacity, during which I earned an M.Sc. in computer information systems, I applied to the PhD program at GSU. I had the privilege to be guided by Professor Straub, who was to become one of the leading names in MIS research methodology.
Prior to becoming the Academic Director of the Doctorate in Business Administration (DBA) Program at Drexel, I was a senior editor at MISQ, the leading MIS journal and one of the top FT50 journals based on which Business Schools are research ranked.
I am currently a Senior Editor at JAIS and on the Editorial Board of JMIS, an FT50 journal.
Areas of Expertise
eCommerce
Outsourcing
Information System Management
Online Auctions
Technology Adoption
SAS
Data Analysis
Computer Information Systems/Management Information Systems
Selected Works
Articles
Books
Chapters
Presented Research
Proceedings
Education
PhD Computer Information Systems-Georgia State University USA 1997
MS Management Information Systems-Tel Aviv University Israel 1991
BA Psychology and Computer Sciences-Bar Ilan University Israel 1986
Grants
GENERATIVE ARTIFICIAL INTELLIGENCE AND EPISTEMIC WELFARE MEDIATED DISCOURSE AND REALITY OF TRUTH, FAIRNESS AND PRIVACY IN A ChatGPT WORLD (Drexel's Areas of Excellence & Opportunity (AEOs) Pilot Funding Competition) $50,000 Aug 2023.
Professional Experience
Corporate-Yael Software and Systems Manager of Software Maintenance and Implementation Sep 1985-Aug 1993
Awards
2009 Service Excellence Award (LeBow College of Business)
2003-2007 Communications of the Association for Information Systems: Vol. 24, Article 14. (Ranked among "Top IS Researchers Publishing in the "Core Three" Basket of IS Journals 2003-2007")
2001-2005 Communications of the Association for Information Systems (18), 2006, pp. 296-328. (• Recognized as 6th in the list of Top IS Researchers between 2001 and 2005)
2000-2001 Faculty Teaching Award, Graduate Level (Drexel University)
2000 Excellence in Teaching Award (LeBow College of Business)
1999 Excellence in Teaching Award (LeBow College of Business)
1990-2008 THCI (1:3), September, 2009, pp. 55-108 (Recognized as 3nd / 4th most prolific HCI author between 1990 and 2008)
Service
JAIS – Senior Editor (2022–Present)
JMIS – Advisory Board Member (2022–Present)
JMIS - Journal of Management Information – Advisory Board Member (2021)
JMIS - Journal of Management Information – Member (2017–2020)