Accessing Drexel Streams
Log into Drexel One at one.drexel.edu
Navigate to the Campus + Community tab on the top-right
Scroll down to the bottom-right of the page until you see the "Technology Services" section
Click on Drexel Streams
Downloading a Zoom cloud recording
Log into your Zoom account at drexel.zoom.us using the Standard Sign In option
Navigate to the Recordings section in the left-hand navigation
Click on the title of the recording that you wish to download
Download the "Shared Screen with Speaker View" format by clicking on the download icon shown in the image below:

After downloading the Zoom recording, follow the instructions below to log into Drexel Streams and upload your video.
If you did not record your video in Zoom, or if you have another video file that you want uploaded to Drexel Streams, you can also use the below steps.
Uploading your video to Drexel Streams
1. Click on Add New in the top right and select Media Upload
2. Agree to the terms and conditions
3. Click the Choose a File to Upload button to browse your computer and select a video file
4. Be sure to clearly title your video. We recommend including the lecture's topic, as well as the folder where it should appear in your course. Clearly labeling your videos will help you when you're ready to get them into Blackboard. The video's title can always be updated, as well.
5. We also recommend tagging your videos. Doing so will make it easy to find all the videos you recorded for a specific course. We suggest creating tags for the course title and the term which the class was held. For example, here are some basic tags one might use:
6. You can also change the privacy settings as you are uploading. It will default to "Private". You should not have to change this setting to include them in Blackboard.
Renaming your video in Drexel Streams
Locate the video you need to edit in the My Media page
Click on the pencil icon to the right of the video to bring up edit options:


Here you can rename your video, add a description, and tags
Click Save once you have renamed your video
There are other settings on this page which may be fine configured as they are. Reach out to LeBow Instructional Tech if you have any questions.
Adding your videos from Drexel Streams to Blackboard
Blackboard and Drexel Streams are integrated, so any video you have in Drexel Streams can be added to your course directly from within Blackboard. However, Blackboard will only show you videos in Drexel Streams that are stored under your Drexel Streams account (not videos of other users). In Blackboard, Drexel Streams is known as "Kaltura."
To add your Drexel Streams video to a course in Blackboard, follow these steps:
1. Log into Blackboard at learn.drexel.edu, and click on the desired course
2. Select the content area where you would like to add your video
3. Go to Build Content >Mashups > Kaltura Media: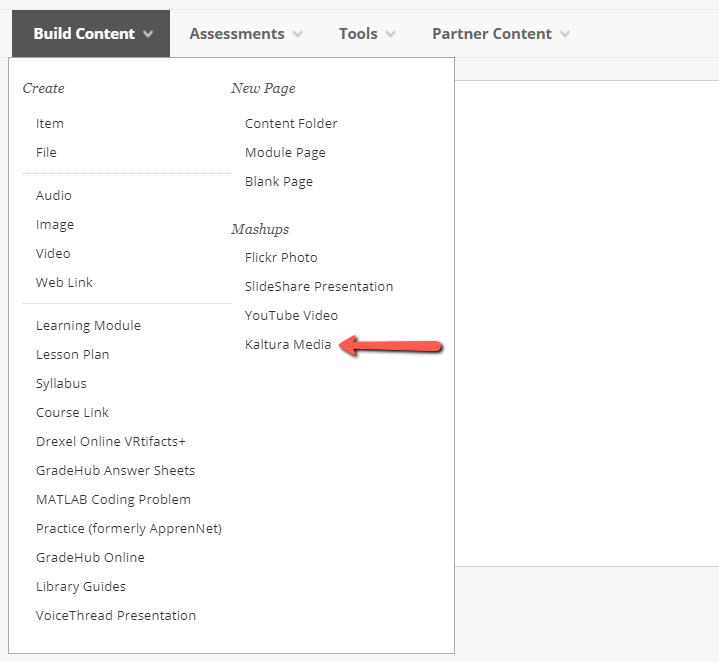 4. Select your video by either scrolling through your Drexel Streams library or by searching for the video in the "search" field
5. Title your selected video. You can also add an optional description and set the availability dates
6. Click Submit


This process of storing videos in Drexel Streams and then adding them to Blackboard using the Kaltura Media tool is the recommended practice to add your videos to your course in Blackboard. Video files should not be directly uploaded to Blackboard courses because of performance issues and storage limitations.