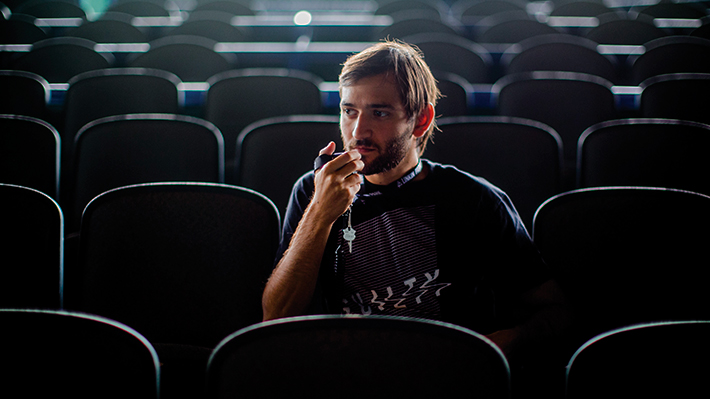 Life Underground
Hours before any bands are set to take the stage at the Susquehanna Bank Arts Center, a small contingent of dedicated fans relax in folding camp chairs outside the venue's main entrance. These are Lorenzo Errico's people. He greets those he's met at previous shows by name and introduces himself to new faces. Collectively, these super-fans and others like them around the world make up Linkin Park Underground (LPU), the official fan community of the multiplatinum rock band.
Lorenzo is the project manager for LPU, a role that often focuses on digital fan engagement through forums and social media, but on the day of a concert, translates to gatekeeper and guide for fans who purchase or win highly coveted meet and greet ticket packages. He relishes both aspects, and pursues the job with the enthusiasm of someone who vividly remembers what it's like to be a fan.
When Lorenzo's family moved to the United States from Italy in 2000, one of the first pieces of American pop culture he encountered was Linkin Park's debut album, Hybrid Theory. He identified with their music, and after a 2003 concert in Camden, N.J., he joined LPU. Like most members, he eagerly awaited club perks, giveaways and the annual fans-only album, but as a young entrepreneur, he was also closely watching the band's innovative grassroots marketing.
Lorenzo founded Formation, a skateboard and T-shirt brand, when he was 14 years old. With designs from his art teacher Todd Marrone and $600 from a summer window-washing job, he produced his first skateboard decks. He spread the word at skateparks near his hometown of Lower Merion, Pa., and convinced a local shop to carry his decks. The first batch sold quickly, and Formation grew with new deck and T-shirt designs.
Following Linkin Park gave Lorenzo a model for his early marketing efforts. "They were one of the first bands to use the Internet to their benefit to get their music out there," remembers Lorenzo. As an early LPU member, he witnessed their pioneering use of Internet forums to connect with fans and organize regional street teams to build hype around local shows and album releases. The band's direct-to-fans approach impressed Lorenzo, and witnessing it first-hand also served as early inspiration for choosing a marketing major upon enrolling at LeBow.
Despite his admiration for the band's music and marketing, his connection to the band nearly ended at fandom. While at Drexel, Lorenzo had taken his first co-op with MTV and the second with the Philadelphia Eagles, as the mascot Swoop's personal assistant. For his third co-op, he wanted to target the music industry and applied for positions with Linkin Park in Los Angeles and Sony/RCA in New York. The Sony interview quickly produced a job offer, but Lorenzo anxiously held out to hear from Linkin Park. As his decision deadline with Sony approached, he decided to take a more direct approach. Borrowing an idea from a friend, he sent LPU's marketing manager a printed resume and portfolio overnight via FedEx. The ploy worked; he got a call the next day and had a job offer two hours later.
Witnessing Linkin Park's fan-engagement machine from the inside energized Lorenzo. He returned to Drexel and dove back into Formation, collaborating with Philadelphia street artist NoseGo and arranging pop-up art/retail events inside a La Colombe coffeehouse and a Federal Donuts store – complete with flavors themed on the skateboards' color schemes. While the profile of his skate brand was rising, Lorenzo didn't waver in his ultimate goal of landing a permanent role with Linkin Park.
An opportunity arose when Adam Ruehmer, LPU's strategic marketing manager, left for a position at Warner Brothers. As he transitioned, he recommended his former co-op. "Lorenzo's work ethic is unlike anyone I've worked with over the years. When I decided to leave my position with Linkin Park, I told my bosses that they didn't have to look any further than Lorenzo as my replacement."
Lorenzo was offered the position and moved to Los Angeles without hesitation. After hastily unpacking, he headed out on his first tour with the band. They played in Tokyo and Hong Kong, and the experience proved invaluable for Lorenzo. "You can spend so much time in an office planning, but if you're not [on tour] seeing the kids go through the experience, how are you going to make it better?"
Now a veteran of tours across Asia, North America and Europe, Lorenzo has road-tested plans for improving how LPU operates both online and in-person. He's met fans so dedicated that they sport their loyalty on their skin with scores of band-related tattoos and others who rearrange their lives to catch every tour stop. Their extreme devotion adds pressure to Lorenzo's job, but meeting them face-to-face is ample motivation to keep LPU's marketing relevant for die-hards and new listeners alike.
Photography by Shea Roggio