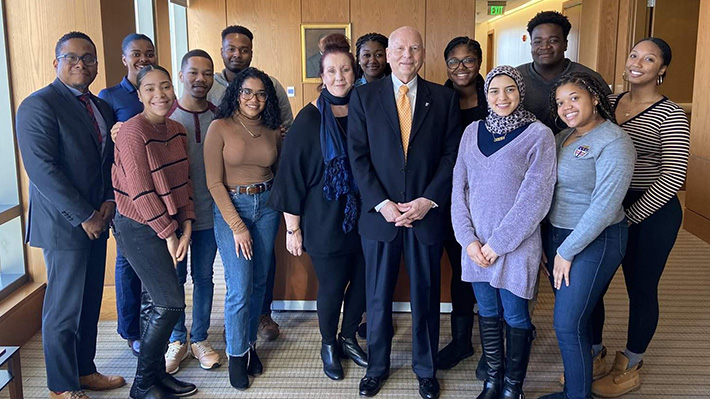 $10 Million Gift to Support Underrepresented Students and Civic Partnerships
A $10 million pledge from Drexel University alumnus Ronald W. Disney and his wife Kathleen will help promote diversity, equity and inclusion efforts at Drexel by providing scholarship funds and program support for students from underrepresented backgrounds, primarily at the University's Bennett S. LeBow College of Business.
The gift was made as a bequest and will also provide financial support to a mentoring program for public school students in West Philadelphia; research on hunger and poverty in the Philadelphia region; and mental health and well-being counseling and programming for Drexel students. The portion of the pledge designated to LeBow College is the second largest gift made to the business school by an individual.
"I am profoundly grateful to Ron and Kathy Disney for their visionary generosity to Drexel and our neighbors in Philadelphia," said Drexel President John Fry. "Their far-ranging gift demonstrates not only their commitment to expanding educational opportunity and quality programming to the broadest spectrum of talented students, but also their confidence and trust in Drexel's civic engagement mission to promote health equity and to help build more equitable learning environments in our city's public schools."
Prior to this gift, Ronald and Kathleen Disney had established two endowed funds to benefit LeBow College students participating in Build Relationships in Diverse Group Experiences (BRIDGE), a learning community created at Drexel in 2012 to support students from underrepresented backgrounds as they develop into future leaders in their professions.
"The breadth of Ron and Kathy's generous gift is extraordinary," said Vibhas Madan, PhD, dean and R. John Chapel, Jr. Dean's Chair at LeBow College. "Opening our doors to the broadest range of capable students is our highest priority and we are very grateful to the Disneys for helping us advance this goal. Their wide-ranging commitment will have a multi-dimensional impact on our efforts to support student success – now and well into the future."