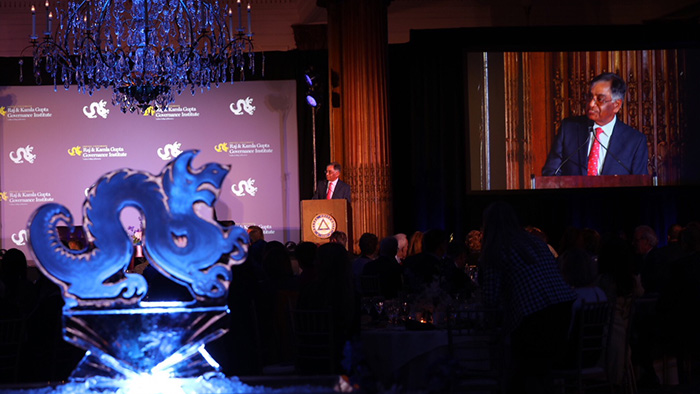 With a $5 Million Gift, Drexel Establishes the Raj & Kamla Gupta Governance Institute
Drexel University's LeBow College of Business is once again at the forefront of preparing organization leaders to govern better. With the help of a $5 million gift, the College will establish the Raj & Kamla Gupta Governance Institute.
Drexel alumnus Raj Gupta, chairman of Aptiv PLC and chairman of Avantor Inc, and his wife Kamla invested $2.5 million in the Institute that will bear their name while the Haas family and the Haas family foundations matched the gift bringing the total investment in the Institute to $5 million.
The Gupta Institute will house the existing Center for Corporate Governance and the new Center for Nonprofit Governance, each providing world-renowned business leaders with dynamic governance insights.
The Institute will welcome Bill McNabb as its first executive in residence to foster high-impact collaboration between corporate executives, key governance thought leaders and faculty members to address the present needs of industry as they arise, positively impacting the business community at large. McNabb is chairman of The Vanguard Group, the world's largest mutual fund manager and serves on various for-profit and non-profit boards. McNabb also served as chairman and CEO of The Vanguard Group until December 2017.
"The generous support from Raj, Kamla and the Haas family will position the Institute at the forefront of governance issues for public, private and non-profit industries," said Drexel President John Fry. "Their support will give Drexel national prominence in an important field with lasting implications."
The new Institute was announced April 16 during a dinner commemorating the 10th anniversary of Directors Dialogue, an annual full-day program by the Center for Corporate Governance designed for corporate leaders to promote candid discussions of important governance issues, supported by the latest practical research. The dinner was attended by more than 250 of the area's foremost business leaders and featured keynote speaker Jay Clayton, U.S. Securities and Exchange Commission chairman.
"This investment allows the Institute to continue to be at the forefront of governance issues through a unique blend of programming, thought leadership, and research that answers industry's unexplored questions and expands the boundaries of current practitioner and academic knowledge," said Patti Connolly, executive director of the Gupta Institute.
With the Gupta Institute, programming will expand not only to organizations in the nonprofit sector but also across disciplines allowing organizations at both the for-profit (public and private) and non-profit sector to benefit from research at Drexel's other colleges and schools. It will serve as a neutral ground where industry and education meet to provide business solutions through its programming, knowledge sharing and research.
"My association with Drexel dates back to 1970 as an MBA student and subsequently a trustee and member of LeBow College of Business and Center for Corporate Governance advisory boards. It is indeed an honor for Kamla and I to be part of the future contributions that the newly established Institute will make towards improving governance across a wide range of organizations," said Gupta.
Throughout his professional journey, Gupta served on various boards-including Hewlett-Packard, Tyco International and The Vanguard Group-and learned many lessons about governance. In 2016, he coauthored the book, "My American Journey, Eight Dollars and A Dream," that provided tips, not only on what makes a good CEO, but also on what makes a good employee hire, how to balance success with life outside the workplace and what makes an individual a better employee. The book included narratives from people close to Gupta throughout his business career, providing insight on how those who worked with him viewed him as a leader. The book was hailed as "a compelling account for all who are navigating a corner office, a boardroom or their life course."
Gupta joined Rohm and Haas in 1971 as a financial analyst. Working his way up in the company, Gupta was elected to the board of directors and named vice chairman in January 1999 before becoming chairman and chief executive officer in October 1999. He assumed the additional title of president in early 2005. In 2009, Gupta left Rohm and Haas after its $15.3 billion acquisition by the Dow Chemical Company (now owned by DowDuPont).
Gupta is the recipient of numerous awards and honors. In April 2005, the U.S. Pan Asian American Chamber of Commerce named Gupta as one of the top 10 most influential Asian Americans in business. In 2006, Gupta was named Drexel's 53rd Business Leader of the Year by the LeBow College of Business. In 2007, Gupta was awarded The Society of Chemical Industry's most prestigious honor, the Chemical Industry Medal.
Gupta earned an MBA in finance from Drexel's LeBow College of Business in 1972. He holds a bachelor's degree in mechanical engineering from the Indian Institute of Technology and a master's degree in operations research from Cornell University. The Guptas have two daughters, Amita and Vanita.