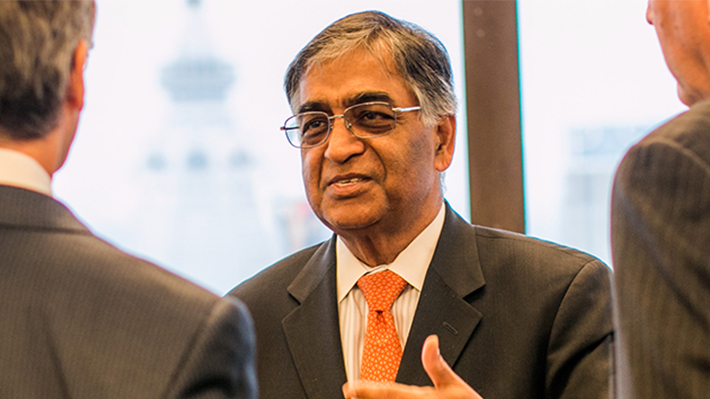 LeBow Alum Raj Gupta Named Top Global Business Leader
LeBow alumnus and former Drexel Trustee Raj Gupta MBA '72 was recognized by Indiaspora, a nonprofit organization of global Indian diaspora leaders, as one of the top global business leaders of Indian descent.
The inaugural Indiaspora Business Leaders List draws from the latest editions of Fortune and Forbes U.S. and global lists and honors 58 executives of Indian descent leading the largest global corporations in 2020. Headquartered across 11 different countries including the U.S., Canada, England and Singapore, these companies collectively employ more than 3.6 million worldwide; account for a combined USD $1 trillion in revenue and $4 trillion in market capitalization; and have delivered annualized returns of 23 percent during the tenure of these executives, outperforming the S&P 500 by 10 percent.
On Indiaspora's list, which includes executives from IBM, Lyft, Mastercard, Microsoft and other top global companies, Gupta is the only one appearing twice, as chairman of two firms: Aptiv PLC, a transportation technology company headquartered in Dublin; and Avantor Performance Materials Inc., a health care company headquartered in Radnor, Pennsylvania supplying specialty materials, equipment and services.
Gupta has served as chairman of Aptiv PLC, formerly Delphi Automotive PLC, since March 2015 and as chairman of Avantor since 2010. He started his business career with Rohm and Haas in 1971 while completing his MBA at LeBow and served as the company's chairman and chief executive officer from 1999 to 2009, making him one of the first executives of the Indian diaspora to join the ranks of global corporate leadership. He is currently on the board of directors for DuPont and previously served on the board of directors of Vanguard Group, Hewlett-Packard and Tyco; he was also named Drexel's Business Leader of the Year in 2006.
"I am deeply honored to be amongst the Indiaspora Business Leaders," Gupta said. "Earning my evening MBA from Drexel with a focus in Finance while employed at Scott Paper was instrumental in my building a successful career at Rohm and Haas. Kamla and I feel fortunate and blessed to contribute towards a fellowship in the name of my parents, as well as towards the launch of Gupta Governance Institute."
Along with his family, Gupta is a longstanding donor to Drexel and LeBow. In April 2018, LeBow's Raj & Kamla Gupta Governance Institute was launched with a generous investment from the Gupta family foundation, Ujala. Home to both the Center for Corporate Governance and the Center for Nonprofit Governance, the Gupta Governance Institute provides world-renowned business leaders with dynamic governance insights and shapes public, private and nonprofit boardrooms, nationally and internationally.