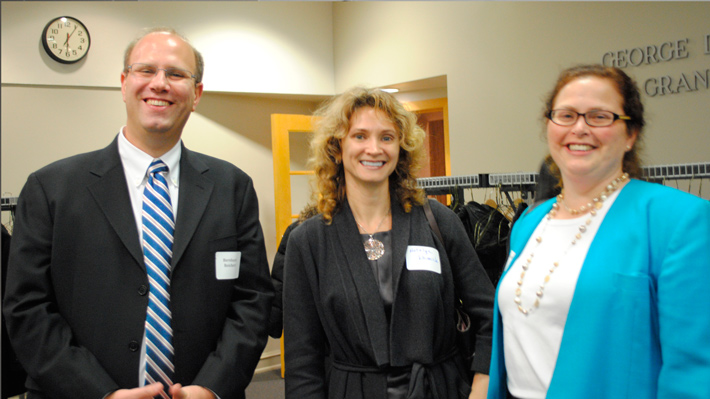 Accounting Personnel Updates
The Accounting Department is pleased to welcome four new faculty members and a new staff member to our department and congratulate four professors on their promotions. 
Appointments: 
Kevin K. Jones, assistant clinical professor
Kevin recently completed his studies at Georgia State University where he earned his DBA. in accounting. He earned his MBA at the University of Baltimore and his bachelor's at the University of South Carolina. Most recently, he was the global operations controller for a division of General Electric in its Parts & Repair Services Business Unit. 
Patricia Derrick, associate clinical professor of accounting
Patricia joins us from Salisbury University where she was an assistant professor since 2005. Previously, she served as a visiting professor at Virginian Polytechnic and State University and George Washington University where she earned her Ph.D. in accounting. She also has experience as a controller for Levtran Enterprises and as a CPA in Maryland.
Duri Park, assistant professor of accounting
Duri has recently completed his Ph.D. from the Fisher School of Business at Ohio State. Prior to that, he earned his master's in statistics from Stanford. Duri's research interests include financial reporting, insider trading, comparability, cash holdings, accounting disclosure, research methodology. 
Curtis M. Hall, assistant professor of accounting
Curtis recently completed his doctoral studies in accounting with a minor in finance at the University of Arizona. He earned his MBA from Claremont Graduate University and his bachelor's degree in economics from California State Polytechnic University. His research interests include strategic cost management, corporate governance, capital markets research in accounting and human capital investment. 
Charlotte Ford, department manager
Prior to joining the Accounting Department, Charlotte was the financial analyst for the Libraries where she helped to develop the budget, coordinated all financial activities, instituted process and efficiency improvements, managed contracts, and coordinated human resource issues. Her experience includes working in the banking industry in treasury and corporate cash management sales and product management and the nonprofit industry in finance and administration focusing on international programs. Charlotte has participated as a presenter and trainer in Treasury Management Services, and has conducted presentations to students at both the college level and high school level regarding her International Peace and Conflict Resolution work. She is a Certified Treasury Professional.
Congratulations on the following promotions:
Hui Lam Choy was promoted to associate professor.

Stacy Kline was promoted to full clinical professor.
Jennifer Wright was promoted to assistant department head.