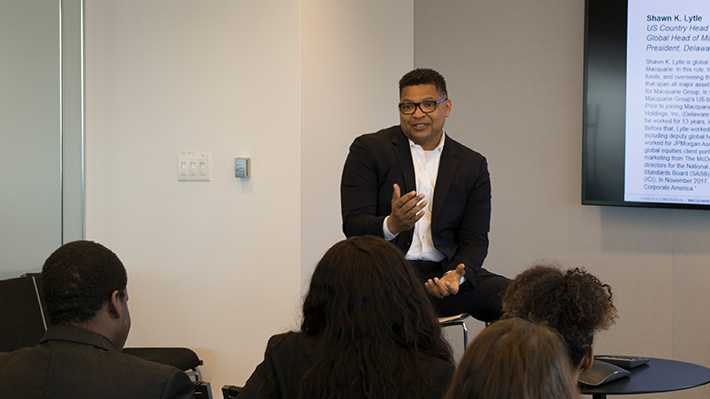 BRIDGE Students Get Face Time with Finance Leaders
Site visits to corporate employers are a regular activity offered to students in the BRIDGE learning community, but last month's trip to Macquarie, an investment management firm headquartered in Sydney with offices in Center City, stood out from the norm.
Jim Hinkley, a LeBow MBA graduate and head of global product development at Macquarie, arranged a diverse series of speakers to highlight different departments and functions within the company, and his lineup started with the man at the top: Shawn Lytle, Global Head of Macquarie Investment Management and President of Delaware Funds by Macquarie.
Lytle related both the story of his roots – from growing up in Boston and becoming the first in his family to attend college – and the shape his career has taken, including many years working in London for UBS and JPMorgan and travelling internationally for work.
"You don't have to move around a lot," Lytle says. "Work with people you like and in an environment that fits your personality."
The remainder of the speakers – Saniah M. Johnson, head of U.S. corporate development; Stuart George, senior vice president and head of global trading; and Samantha Pollard, junior human resources business partner – each shared his or her career path, including Johnson's work in mergers and acquisitions and George's circuitous route to completing his degree, and all complemented Lytle in going beyond the allotted time answering questions.
Bianca Mitchell, a pre-junior majoring in business analytics and finance, previously worked as an intern at Macquarie during high school, and she was surprised at the commonalities between Lytle, Johnson and George. "They all said that rather than going after the idea of success, you should search for meaning and purpose and align your career with your personality and success will come with that," she says. "I thought it was interesting all three who came from three different walks of life had the same message."
Kavya Naraparaju, a sophomore majoring in business analytics and finance, is interested in pursuing a career in investment management, and she found Johnson's remarks on her career and the course it's taken to be the most compelling. "It wasn't just inspiring – it was very levelling," Naraparaju says. "She started out with a really big job; it shows you don't have to just sit there for years."
For Shatiana Wackens, a pre-junior majoring in marketing and organizational management, a career in finance isn't currently in her sights, but she said a lot of what she heard at Macquarie resonated. "I liked how Stu emphasized learning outside the classroom," she said, adding that, from Johnson's presentation, "You could tell from her energy that she enjoyed sharing her journey with people."