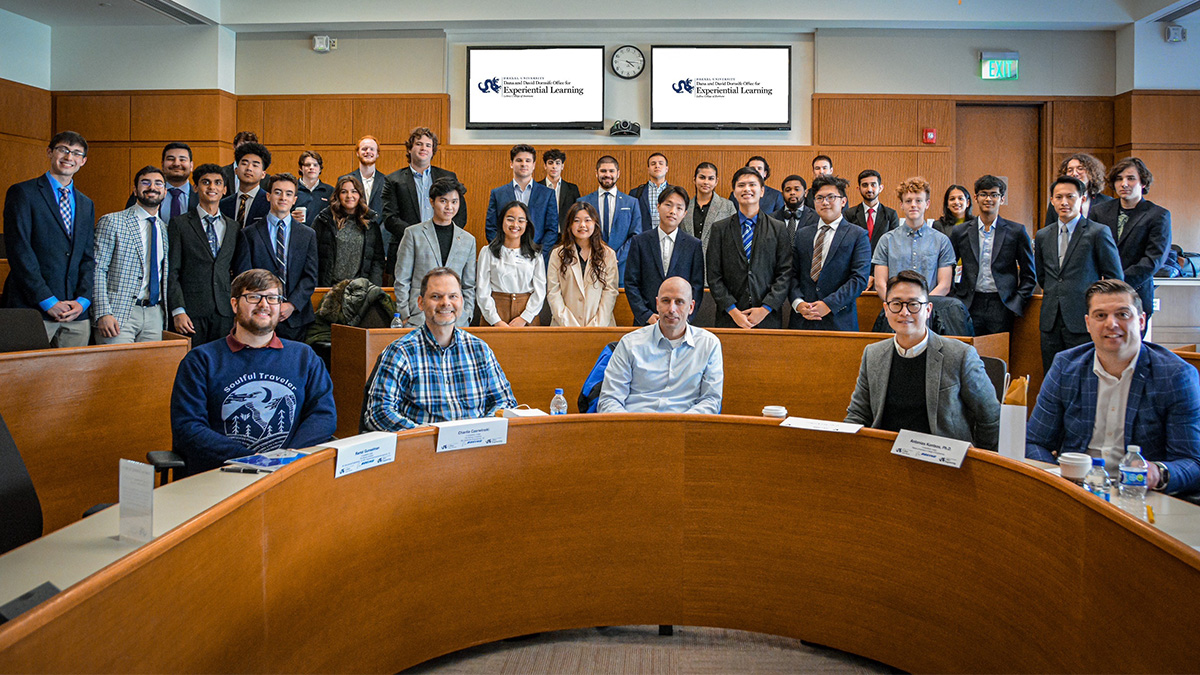 Case Competition Winners Pair Business Insights with Engineering Applications
Solving a complicated scenario at the intersection of engineering and business requires skills and concepts from both disciplines.
For the annual Boeing Case Competition, offered in collaboration by the LeBow College of Business and the College of Engineering and hosted by LeBow's Dornsife Office for Experiential Learning, lead sponsor Boeing supplied a case question involving production of the company's Chinook CH-47 that cut across so many functional areas of business — finance, supply chain, logistics, personnel management, operations — though with engineering and manufacturing central to the problem that teams of undergraduate students faced.
After a kickoff event in late January and a preliminary deadline in February, a field of 19 teams was narrowed down to eight teams. The finalists then refined their solutions with guidance from four Boeing employees serving as mentors, then presented their solutions to maintaining profitability and other critical outcomes.
While all of the finalists took varying approaches, there could be only one winner, and it turned out to be the team with the greatest number of LeBow students: The Horses, named for the game pieces in the Vietnamese version of the game Parcheesi, took first place in the competition, sharing a $2,000 prize.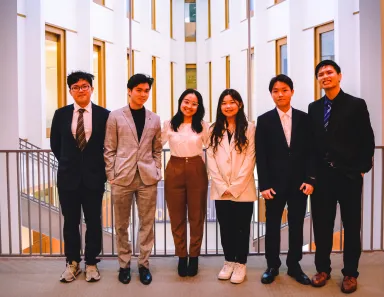 The Horses, the winning team from the 2023 Boeing Case Competition, held in Gerri C. LeBow Hall and hosted by the LeBow College of Business and the College of Engineering.
The six-member team, consisting of Troy Pham '25, finance and business analytics; Diana Than '26, finance, accounting and business analytics; Zoe Pham '27, finance; Nam Pham '27, finance; John Duong '27, finance; and Andy Ngo '25, chemical engineering, met one another through the Drexel Vietnamese Student Association, and the three upper-class students have served as mentors to the younger three during their first year at Drexel.
Troy Pham reflected on the experience of brainstorming and coming up with solutions that matched Boeing's needs.
"The most challenging part was wrapping our heads around the intricate aircraft production process and deciphering all the technical terms and different stages of aircraft manufacture," Troy Pham says. "It was tough work, but totally worth it in the end."
Troy Pham and Ngo both cited co-op experience as important in shaping their approaches to the case.
"Having worked as a Marketing and Business Analyst intern, I'd say my strong suit is quantitative analysis," Pham said. "I enjoy using data analysis to solve problems and also have a decent understanding of supply chain management."
Differing numbers of engineering and business students on each team resulted in varied approaches to solving the case, drawing from data and background information supplied by Boeing while creating their own financial models and recommendations for new programs and initiatives.
The proposed solutions were evaluated by a panel of Boeing employees and Drexel academic experts, who made their judgments based on the quality of the teams' overall analysis, with an emphasis on logic and the strength of their recommendations and implementation, as well as teams' presentations and their responses during the Q&A portion of the finals.
From Boeing's Ridley Park facility, where the V-22 Osprey is manufactured, V-22 Director and Program Manager Robert Freeman '96, Aircraft Systems Engineering Manager Ramzi Gunselman '14, MS '20, and Materials & Processes Manager Charlie Czerwinski '97 served as judges during the finals; Reginald Torrevillas '16, V-22 Production Engineering Manager, served as a judge during the preliminary round.
Judges from LeBow and the College of Engineering were Hande Benson, PhD, professor of decision sciences and MIS, Jinwook Lee, PhD, assistant professor of decision sciences and MIS; and Antonios Kontsos, PhD, professor of mechanical engineering and mechanics.
"The competition is a great opportunity for Boeing to engage with students and give them an experience of real-world aerospace problems that we encounter," Freeman says. "We really appreciated the efforts of all of the teams, and we hope this experience will open the door for some students to explore a career in aerospace."