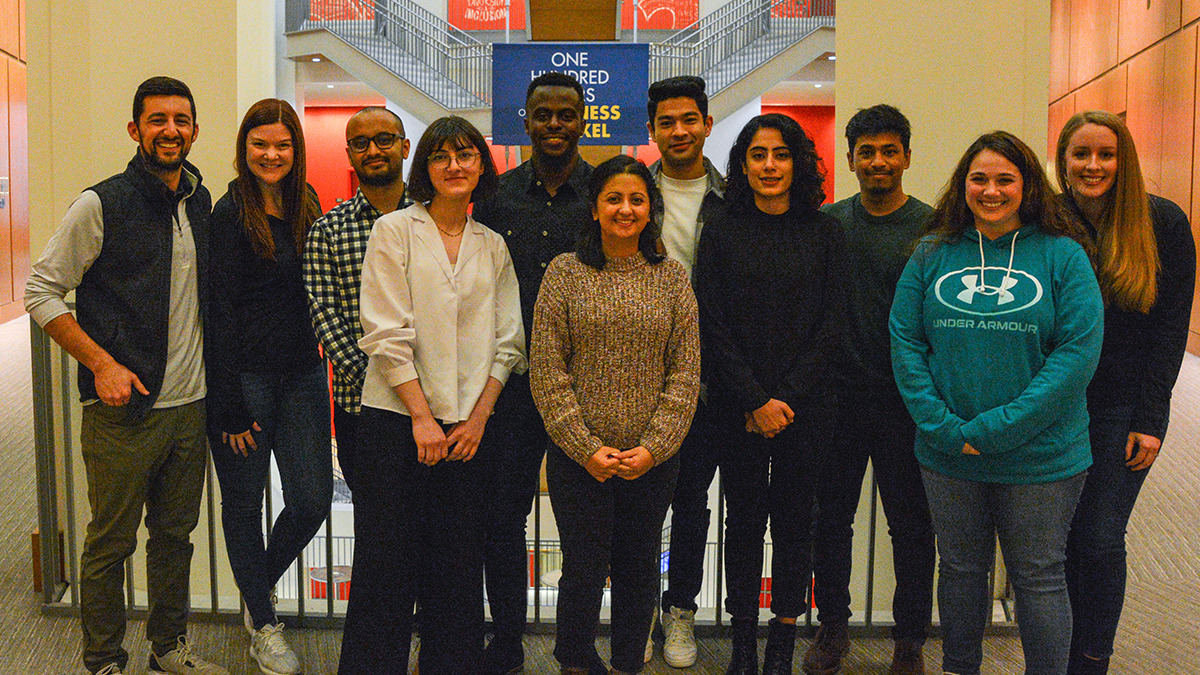 Datathon Draws Out Custom Solutions with a Consumer Focus
Complete an order online. Click "Purchase." Wait a few days, and everything you ordered shows up at your door. Sounds easy enough, right? It's not always that simple: anyone who shops online has, at some point, received their order in multiple shipments, a common scenario that's less convenient for the customer and both less efficient and more costly for the retailer.
For the Graduate Datathon, an annual business case competition presented by the Center for Business Analytics, graduate students tackled this persistent problem and presented a data-driven solution to representatives from a major consumer brand.
Order fulfillment was at the heart of the case question devised by Under Armour's business analytics and supply chain divisions, with input from Senior Associate Dean and Professor of Decision Sciences and MIS Murugan Anandarajan, PhD.
The winning team consisted of MS in Business Analytics students Himal Giri, Vusala Islamova, Aditee Bhattarai, Utsav Pradhan, Sachet Rajbhandari, Tawi Mankotia and Joseph Onyemakonor. The seven team members jointly put forth an innovative solution that demonstrated "clear understanding of the business side of things," according to Anandarajan.
"They took a multi-dimensional view and showed innovative thinking," Anandarajan says. "They kept cost in mind but really dug deep into the problem."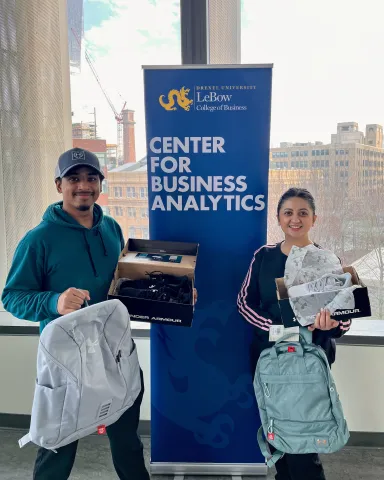 MS in Business Analytics students Utsav Pradhan and Aditee Bhattarai (L-R) with some of the prizes they received from Under Armour as winners of the 2023 Graduate Datathon.
For the all-day competition, teams had to gather data, conduct analysis across numerous business functions and prepare a seven-minute presentation between 9 a.m. and 4 p.m. Mankotia noted the challenge that this posed to her and her teammates.
"The time constraint placed immense pressure on us, and the pressure to understand, analyze, prepare and deliver within a tight timeframe was significant," she says. "Collaborating with my team members was a truly enjoyable experience, and I gained a lot of knowledge from their diverse backgrounds and experiences."
Onyemakonor cited several courses from his business analytics studies, including Operations Research and Data Mining, as important in shaping his approach to the problem.
"These courses provided me with a solid understanding of structuring business problems and analytical techniques that were directly applicable to the competition," he says.
Anandarajan served on the panel of judges along with several Under Armour representatives: Shannon Hatmaker – Director, Business Analytics, Americas Supply Chain; Ryan Solomon – Senior Manager, Business Analytics, DTC; Michelle Belt – Senior Business Analyst; and Carson Quina – Inventory Management Professional.
Hatmaker found it exciting to see the students in action throughout the day.
"All of the teams did a fantastic job analyzing the data provided and coming up with ways to scale and improve performance," she says. "What set the winning team apart was their use of external data, such as industry insights, market-size projections, comparative analysis and economic factors impacting our source base. They were able to take these peripheral resources and connect them back to the data provided in order to come up with innovative solutions."
As a prize, the winning team received an assortment of shoes, hats and backpacks from Under Armour.