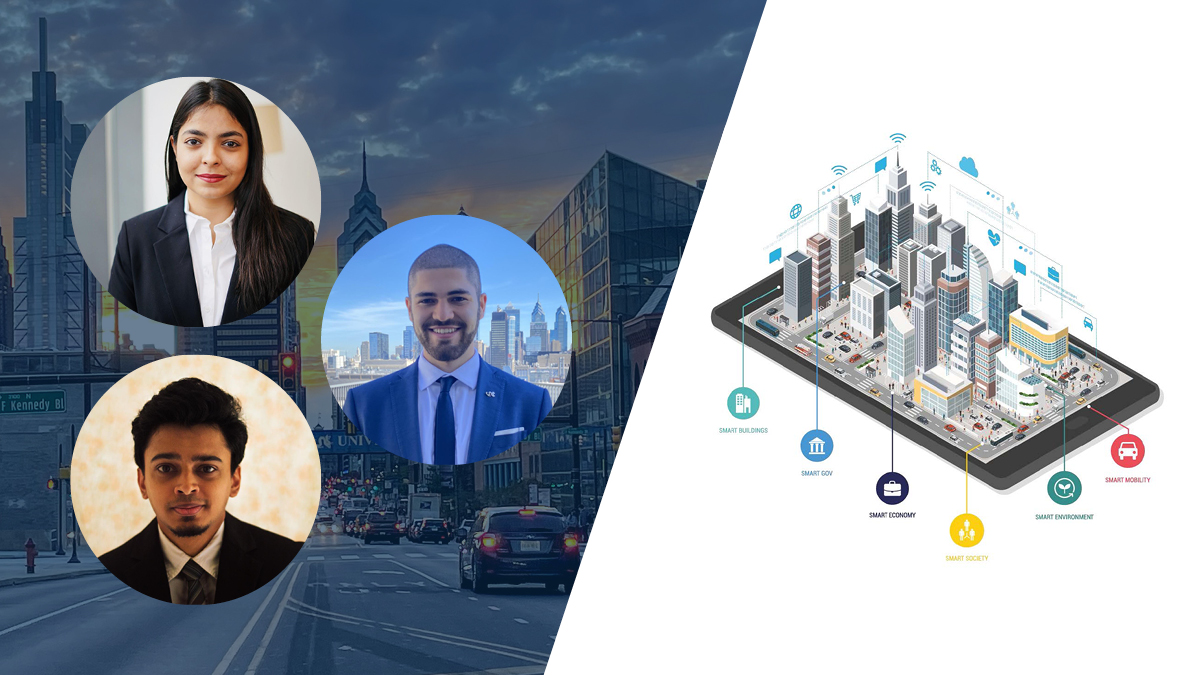 A Big Concept, Backed by Data, Brings Supply Chain Competition Success
There are smartphones and smart appliances, but what's a "Smart City"? There's no set definition, but ideas center around a planned community with enhanced livability through application of technology —something that might be considered futuristic yet not too far-off.
Approaching this kind of topic requires openness and flexibility, which provided a great opportunity for a team of LeBow students competing in the first year of a newly offered case competition.
As competitors in the first-ever Global Supply Chain Case Competition, hosted by the Randall R. Kendrick Global Supply Chain Institute at the University of Southern California's Marshall School of Business in October 2022, three LeBow students were tasked with coming up not just a vision for a smart city but with a plan to build, supply and sustain their concept.
On the strength of their plan, Yaseen Ahmid, BS supply chain management and logistics, finance and business analytics '23; Shishir Gururaj MS supply chain management and logistics '23; and Charul Bajaj MS business analytics '23; ultimately placed second out of 35 teams and won a $3,000 prize.
Ahmid, a veteran of over a dozen case competitions during his time at LeBow, served as team lead and worked with the two graduate students in bringing together both a creative vision and the data to support their design.
"This was, by far, the best case competition that I have participated in," he says. "The culture and chemistry that we as a team were able to create and sustain throughout the competition was inspiring."
The team's model, drawing on sustainable practices in infrastructure, transit, consumption habits and other areas, demonstrated deep knowledge in supply chain and data analytics, along with a sense of curiosity and exploration that came from working with such an open-ended concept.
"From my previous experiences in case competitions, I've learned that you need to create an environment where people feel valued and that their ideas are acknowledged," Ahmid says. "Charul is phenomenal at statistics and working with data, and Shishir is extremely inquisitive and well-educated on business formation."
Gururaj notes that working together in person helped the team clarify and re-evaluate their thoughts at each step, which turned out to be key in preparing for the Q&A session with the competition's judges.
"I have been part of a competition as an undergraduate student in India, and I don't think anything comes close to this in terms of exposure to like-minded individuals or to the knowledge I gained while researching and interviewing people for this competition."
Each team member cited different LeBow classes as providing important tools for the competition, including Strategy and Competitive Advantage (MGMT 450), Supply Chain Management (OPM 341), and Transportation and Logistics Management (POM 630).
Bajaj observes that courses focused on data visualization and data mining gave her the needed tools to analyze supply and demand forces that shape their concept.
"I enjoyed doing the research the most," she says. "It really helped us learn a lot of new terminology."
Associate Professor of Decision Sciences and MIS Wenjing Shen, PhD, served as the team's faculty advisor and provided encouragement and support throughout multiple rounds as the competition winnowed down and the Drexel team kept making the cut.
"What impressed me most is the passion, dedication and independence that the team demonstrated during the case competition," Shen said. "This competition is a great enrichment to our curriculum, and I look forward to our students participating — and hopefully winning — again next year."
A team from the University of Rajshahi in Bangladesh took first place, with a team from the University of Michigan also in the top three as second runner-up.