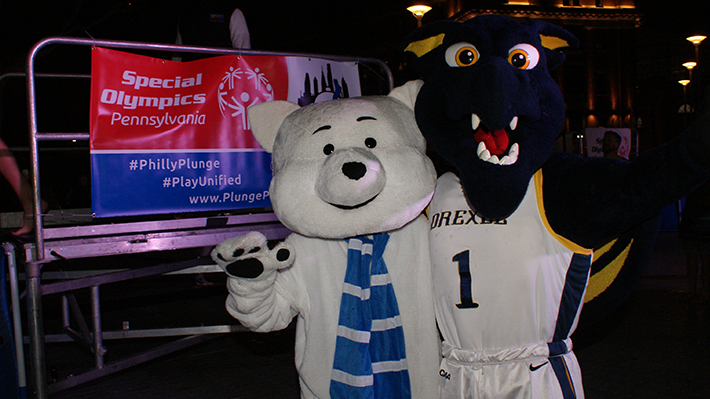 The Cause Behind the Course: Students Advise Local Special Olympics Program
What motivates volunteers? With existing commitments at work and home, how do people decide to donate their free time?
A recent undergraduate course in Nonprofit Business Consulting investigated these factors, critical to many nonprofit organizations, through a collaboration with Special Olympics Pennsylvania's (SOPA) Philadelphia program.
Taught by adjunct faculty member JT Thazhathel '12 '19 and organized through LeBow's Dornsife Office for Experiential Learning, the course required students to conduct research and gather data on volunteer behavior in order to make recommendations to SOPA on reaching new volunteers, strengthening current volunteer involvement and increasing awareness of the Polar Plunge, one of its signature events.
While the Special Olympics Pennsylvania's Philadelphia program holds trainings and events for children and adults with intellectual disabilities throughout the year, the organization's efforts are most visible in the Drexel community during its annual Polar Plunge fundraiser, through which individuals raise money in advance of taking an ice-cold dip into an outdoor pool. In recent years, the Polar Plunge has been held outside the Drexel Recreation Center in collaboration with Drexel Athletics.
"This course allowed us to come together while we were physically distant to work alongside a great organization." — JT Thazhathel '12 '19
Over the spring term, students engaged current SOPA volunteers with surveys on their experiences and levels of engagement. They also surveyed the general population on overall volunteerism behaviors and their familiarity with the Special Olympics Pennsylvania and its mission.
Thazhathel noted how deeply the mission of SOPA affected and motivated his students throughout the spring term's remote-learning environment.
"The students knew their efforts would impact an organization that's making a difference for individuals with intellectual disabilities," he said. "This course allowed us to come together while we were physically distant to work alongside a great organization."
Maria Palmieri '20, a business and engineering graduate, was one of the first LeBow students to declare a minor in business consulting when it was introduced in 2019.
"This was by far one of my favorite consulting courses," she said.
Palmieri served as team lead for the group that developed and conducted a research-based survey to understand people's awareness of and interest in Special Olympics Pennsylvania activities and programming.
"Consulting with a nonprofit like the Special Olympics is extremely rewarding because you are able to solve business problems, while at the same time, adding value to a cause that is much bigger than yourself," she said.
Following the groups' presentation during the final week of spring term, Philadelphia program director Chase Trimmer said he found the students' recommendations valuable to his program and its strategic goal of enhancing the volunteer experience.
"As a volunteer-driven organization, the team's research on our community of active volunteers and current trends in volunteerism sheds light on how we can improve efforts to fill needed positions, support and retain the commitment of our dedicated champions and ultimately, engage more people in our mission in Philadelphia," he said. "This level of reflection and evaluation can be challenging to initiate and manage through day-to-day operations, and we look forward to applying a number of the team's recommendations."