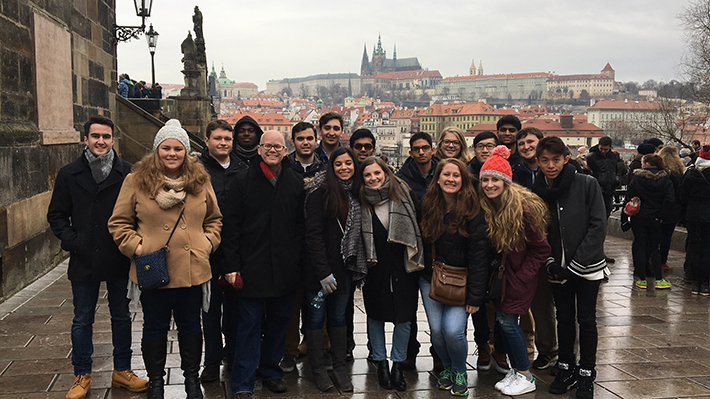 International Residency Consulting Course Focuses on Increasing U.S. Presence of Settle Up
Developing business solutions for a company located 4,162 miles away? Drexel's undergraduates have it covered. Learning about decision making abroad, providing strategies, and visiting Europe were all components of LeBow's fall term international consulting residency course.
Offered through LeBow's Dornsife Office for Experiential Learning, the course combined academic consulting and international travel. With the help of Zoom, Slack, Trello, Google docs, and other technologies, 17 students worked remotely for an international client throughout the term, then traveled abroad to deliver their final presentation in person.
Student consultants worked in teams to identify recommendations for Prague-based Step Up Labs: the creator of Settle Up, an app used to track bills and expenses. The class provided tactics for expanding the company's U.S. presence, developing monetization strategies, and creating strategic partnerships.
Students from several Drexel colleges, including LeBow College of Business, the College of Computing and Informatics, the College of Arts and Sciences, and the College of Engineering, participated in the course. This interdisciplinary make-up prompted contributions from various backgrounds and areas of expertise across the university. "The diversity of the class was an asset to the way we were able to collaborate and learn," said Kristina Placek, senior MIS and business analytics co-major.
Chris Finnin, Ed.D., provided guidance and oversight as the course instructor, integrating industry insight from leaders and guest speakers at Starbucks, IKEA, Monetate, and goPuff, a successful startup co-created by two LeBow alumni. "This course has transformed the way I approach teaching and learning, inside and outside of the classroom," he said. "The students, originally brought together from colleges across the university, came together as a group of individual students with their own set of goals and objectives. By the end of our time together, the group had transformed into a high functioning team committed to seeing the entire team have success."
The culmination of the course was a one-week international residency in Vienna, Austria and Prague, Czech Republic, where students presented their work to Step Up Labs, visited the U.S. Embassy of Austria, explored the University of Vienna, and indulged in a culinary tour of traditional Czech cuisine.
"The term marked one of the most transformative professional experiences in my life to date," said Joseph Snyder, sophomore international business major. "Spending three months working on a team to develop solutions for a client based in Prague exposed me to the stimulating and diverse world of international management consulting."
Junior marketing major Ian Wagner agrees. "This course was the ideal example of experiential learning that LeBow talks about," he says.