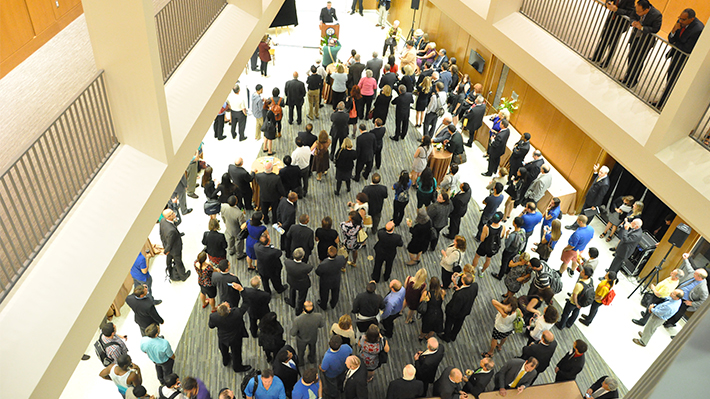 Gerri C. LeBow Hall Portrait Unveiling
Hundreds of LeBow alumni, faculty, staff and students gathered last evening for festivities celebrating Gerri C. LeBow Hall. Benefactor Bennett S. LeBow was in attendance as he addressed the large crowd during the evening and unveiled the portrait of himself and his late wife, Gerri, namesake of the 177,000-square-foot, 12-story building that serves as the gateway to Drexel's Philadelphia campus. The portrait will hang in the eastern entry of the building, the same side of the building where the A.J. Drexel statue presides.
In his address, LeBow marveled at the building, thanking Drexel President John Fry, the late Drexel president Constantine Padakis and LeBow Dean Emeritus George Tsetsekos for their work and leadership in bringing the project to completion.
Throughout the evening, guests were treated to food and drinks and offered tours of the building. Various ribbon-cutting ceremonies were held marking the many named meeting rooms and halls.
Festivities continue later today with Pennsylvania Governor Tom Corbett, Drexel President John A. Fry, and the rest of the LeBow community gathering on the Quad for the official ribbon-cutting ceremony of Gerri C. LeBow Hall.