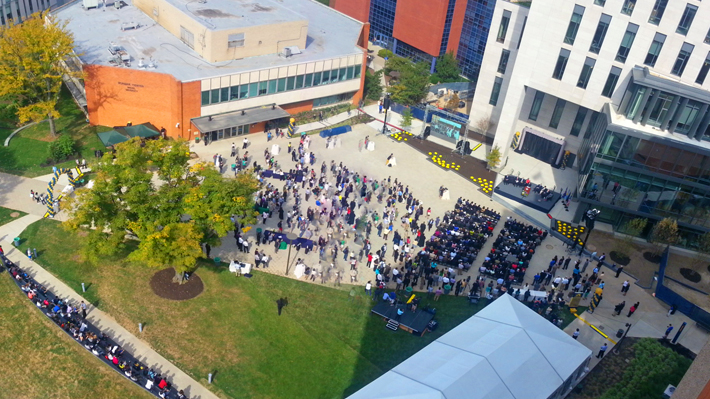 Drexel University's New Gerri C. LeBow Hall Opens for Business
The future of business education is here. With a dedication ceremony today, Drexel University celebrated the opening of the 12-story, 177,500-square-foot Gerri C. LeBow Hall—the new home of the University's LeBow College of Business.
Gov. Tom Corbett and benefactor Bennett S. LeBow were joined by Drexel President John A. Fry and LeBow College Interim Dean Frank Linnehan for the dedication.
"The opening of Gerri C. LeBow Hall marks a major milestone for the University," said Fry. "This new building will transform business education at Drexel and affirm LeBow College's stature as one of the nation's premier business schools. We are extremely thankful to Ben for his generosity and commitment to helping prepare future generations of students for leadership roles in an increasingly complex world."
A Banner Day at Drexel
The opening of the $92-million building named for Bennett LeBow's late wife was accompanied by announcement of LeBow College's new School of Economics. The elevated status for economics at Drexel will include growth of the doctoral program in economics, the launch of a master's degree in economics, recruitment of additional high-quality research faculty and deeper collaborative research efforts with other schools and colleges at Drexel and around the world.
"These announcements about business education at Drexel are strongly correlated," Fry said. "The same excellence and level of achievement that demanded a world-class home like Gerri C. LeBow Hall also demands that we constantly reassess the structure of our academic enterprise and develop new offerings like the School of Economics. This is a banner day at Drexel."
LeBow, a native of West Philadelphia, described his gift of $45 million to Drexel in 2010 – the 12th-largest single gift ever awarded to a U.S. business school – as a ringing endorsement of the business school and its accomplishments. He made his first gift of $10 million in 1999; since then LeBow College's stature has risen steadily nationally and internationally.
"My Drexel education was the catalyst to my professional success," said Bennett S. LeBow. "I know first-hand the passion and hunger in LeBow to provide a superior education to students and I am delighted to do what I can to make its vision a reality."
A New Home on Drexel's Campus
The new building, designed by New York's Robert A.M. Stern Architects and Philadelphia's Voith & Mactavish Architects, features an exterior of approximately 67,000 square-feet of limestone combined with glass.
Gerri C. LeBow Hall's interior features undergraduate and graduate classrooms organized around a dramatic central atrium that is accessible from entrances at the building's three corners. An open stair within this atrium leads to a 300-seat auditorium, a 100-seat lecture hall and a conference center. On the building's upper floors, faculty offices are interspersed with seminar rooms and group study rooms—a deliberate mix of uses fostering the collegial interaction between students and faculty that is essential to the best in business education. The building also includes a green roof and is Green Globe certifiable.
"Thanks to Bennett LeBow's long-term commitment to the College, we have been able to attract more students, recruit top scholars and support research that ranks our faculty among the best in the world," said Linnehan. "The opening of this new building will help us further enhance the connection among the business community, our faculty and our students for which LeBow and Drexel are so well known."
View the online gallery of photographs from this week's building dedication festivities.