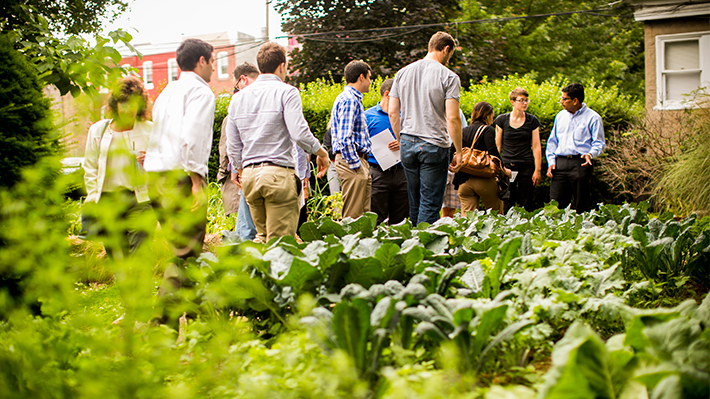 Project HOMEmade
Conducting a consulting project aimed at boosting the nonprofit's new healthy snacks and handmade items, LeBow partnered with Philadelphia's Project HOME during a recent MBA residency.
Thirty-six students conducted market research and investigated promotion strategies and retail placement opportunities for the organization's Social Enterprise projects, which include a food product, kale chips, which Project HOME residents grow, cook and package; and handmade jewelry, made by residents of the safe haven Women of Change, as a means to generate modest income.
MBA student Heather Weiler, who was on "Team Kale," called the consulting opportunity a "tremendous learning experience."
The students studied the project from the ground up – literally. Weiler says that during a site visit, "Project HOME's sustainability manager beamed with pride as she described how she plants in the empty lots of the inner city. It was amazing to see these gardens of life amidst the backdrop of poverty, all tended to with love and care by the residents of Project HOME."
The students also attended the Project HOME block party celebrating its 25th anniversary, where they conducted market research and met with more employees involved with the project.
Weiler says all the teams' efforts seem even more meaningful after learning that Project HOME is putting their ideas to practice, including offering public sampling of their kale chips, which are still a novel product to many people. It's also exploring the students' suggestion to seek a co-branding/co-packing relationship with local companies in order to maximize employable hours (one of the missions of Project HOME) and minimize risk.