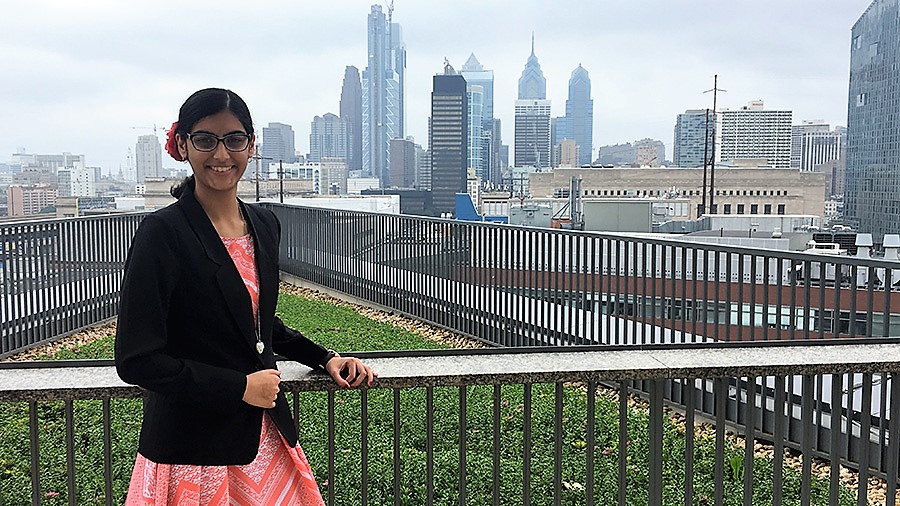 Complementary Pursuits: Undergraduate Student Combines Co-op and Research
Drexel LeBow students are enthusiastic learners and high performers. Many pursue co-op employment for practical experience in their areas of study, or engage in research opportunities, exploring new concepts and areas of knowledge. Sarah Malik, a business and engineering major with a business analytics minor, decided to do both – simultaneously.
Malik's first co-op experience was with mass media and information firm Thomson Reuters, where her role as an insights and analytics co-op served the organization's intellectual property division. Halfway through her six-month tenure, the division was purchased by Baring Asia and Onex and renamed Clarivate Analytics. The shift allowed Malik to experience being part of a new research brand separate from Thomson Reuters.
When Malik was a freshman, she particularly enjoyed her research methods course, instructed by Murugan Anandarajan, professor of management information systems. After settling into her first co-op role at Clarivate Analytics, Malik expressed interest in helping Anandarajan with research efforts.
Malik's co-op manager, Christine McKay '96, welcomed the suggestion to further explore her efforts for Clarivate Analytics that were honored in the Drexel LeBow Analytics 50. Under the direction of Anandarajan, Malik pursued an initiative that accompanied her co-op role and culminated in a teaching case study for classroom settings. Malik's effort marks the first student-developed case study for Drexel LeBow. The publication discusses the implementation of a dashboard to improve the usability and efficiency of Clarivate Analytics' renewal system.
To effectively gather data, Malik met with several departments to understand and track the case problem – a component that helped her understand how her role on the business analytics team related to other divisions and to the business as a whole. "Meeting different people enhanced my co-op experience because I was able to create a strong network of mentors who would guide my path forward," she said. "I communicated with them not only to learn more about the data, but also for their professional advice."
Anandarajan later used the study as an exercise in the next iteration of his freshmen research methods course. Observing fellow students present solutions to the case was the most rewarding part for Malik. "The case study has motivated me to think about ways I can help contribute to the student learning experience," she said. She also hopes the study will increase awareness of the new Clarivate Analytics brand within higher education.
For Malik, whose ultimate pursuit is a teaching career in academia, the effort not only helped her to discover what she enjoys doing, but it also aligned with her professional goals. "As my journey continues, I plan to seek additional opportunities that will allow me to build connections between practice and research," she said.
Access the case study on the Business Analytics Solutions Center website.