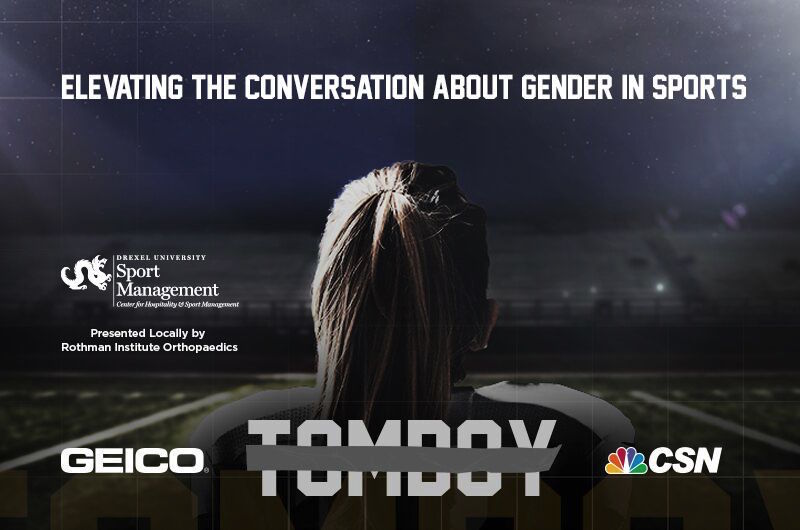 Drexel to Host 'TOMBOY' Symposium on Elevating the Conversation on Gender in Sport
Originally posted in Drexel Now.
The impact of Title IX on the lives of girls and women over the past 45 years is, without question, remarkable, although, according to the National Federation of State High School Associations, only 42 percent of high school girls are currently playing sports.
Research reported by the Women's Sports Foundation demonstrates that girls active in sports are more likely to develop strong leadership skills, higher self-esteem and to be presented with greater economic opportunity. In hopes of continuing this progress and getting more women and girls interested in playing and coaching sports, Drexel's Sport Management Department and CSN Philadelphia are hosting a symposium about the past, present and future of women in sport.
The event, which will take place in Drexel's LeBow College of Business, room 031 on March 8 from 6-8 p.m., will feature a panel of experts and an advanced screening of CSN Philadelphia's multi-platform documentary project "TOMBOY."
"On International Women's Day, we are pleased to host an event that celebrates the contributions of so many strong and accomplished women in sport, while also recognizing that equal opportunity for girls and women in sport remains a promise unfulfilled," said Ellen Staurowsky, PhD, a professor in Drexel's Center for Hospitality and Sport Management.
Following the screening CSN's Amy Fadool will lead a panel discussion with the region's leading women's sports advocates. Panelists will include Staurowsky, who is a professor of sport management at Drexel and author of "Women in Sport: Continuing a Journey of Liberation and Celebration"; Deborah Slaner Larkin, advocacy, Women's Sports Foundation; Benjamin M. Braslow, MD, traumatoloy, surgical critical care and emergency surgery at University of Pennsylvania; Tina Sloan Green, professor emeritus at Temple University, Hall of Fame women's lacrosse coach and co-founder of the Black Women in Sport Foundation; Sommer Hammoud, MD, a surgeon at Rothman Institute and director of its Female Sports Medicine Program; and Lara Price, senior vice president of the Philadelphia 76ers. CSN's Sarah Baicker will moderate questions from the audience.
The one-hour "TOMBOY" documentary, which will air on CSN Philadelphia on Monday, March 13 at 10 p.m., includes interviews with four-time World Cup champion skiier Lindsey Vonn, Philadelphia's Little League World Series pitching sensation Mo'ne Davis and Basketball Hall of Famer Ann Meyers-Drysdale. The documentary strives to elevate the conversation about gender in sports, by speaking directly through the voices of many of the world's most prominent female athletes, broadcasters and sports executives.
"We are excited to share the stories of some of the most remarkable female athletes in the world," said Ted Griggs, president of Group and Strategic Production & Programming Leader, for NBC Sports Regional Networks. "'TOMBOY' aims to elevate, invigorate and inspire the conversation about gender in sports, and we're proud to create a platform for open, candid discussion featuring a variety of perspectives."
The latest "TOMBOY" news and interviews can be found on CSN's website and social media platforms. Join the conversation by using #CSNTOMBOY.