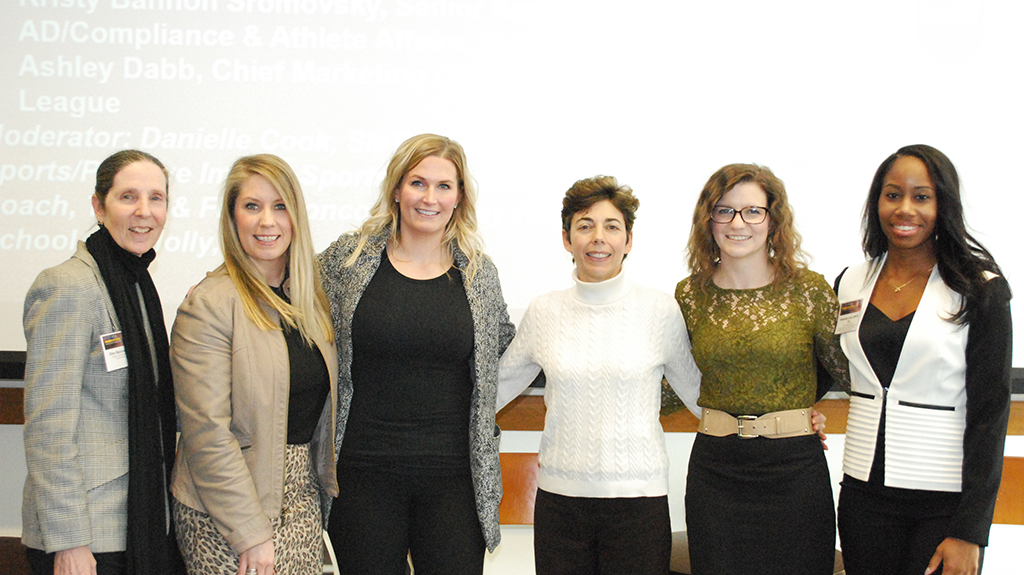 Sport Professionals Look to the Future at Women in Sport Conference
What does the future of the sport industry look like? That is the question that shaped the first-ever Women in Sport Conference hosted by LeBow College of Business in February.
As women continue to become leaders in sport, from serving as coaches and officials in the NFL and NBA to serving as CEOs for players associations, a new vision of the sport industry is coming into the fore.
Attendees of the Women in Sport Conference say they're not surprised. Jennifer White, a senior sport management major who spoke during the undergraduate panel discussions, says the conference is an indication of the powerful legacy of women in sport. "We are not the first women to work in sport, and being at this conference enforces that we will not be the last," she said.
Attendees heard from women with a wide variety of professional backgrounds in the sport industry across the region. Panel discussions were led by undergraduate students, mid-career professionals and executives in the field, including Vice President of Sport Marketing for NBC Sports Philadelphia Cynthia Weiss, Vice President of Flyers Charities Denise Sullivan, Chief Marketing Officer for the National Lacrosse League Ashley Dabb, and Executive Senior Associate Director of Athletics for Temple University Mary McElroy.
By exploring the perspectives of undergraduates beginning their careers to executives working in high-powered positions within the industry, the conference took a hopeful look at the future of sport, highlighting the importance of inclusive work environments and encouraging young women to make bold career moves.
"It's an exciting time because there has been movement that we really have not seen before," said Ellen Staurowsky, professor of sport management. "Now is the time to be hopeful and excited but we also know that we cannot contribute to this discussion without taking up a consciousness raising in terms of making the industry better for everyone involved."
Recognizing the challenges facing women in the industry, from pay inequality to mistreatment in the workplace, attendees were encouraged to find a way to push forward through the personal stories of panelists. "To hear how just about every woman on that panel began her career and had to cross some barriers to get to where they are today, whether it was personal or professional, I think sent a soothing feeling across the room," said Danielle Cook a senior sport management major.
As women in sport continue to overcome these obstacles and break barriers, the conclusion of the conference reinforced that the future of sport includes women. As Staurowsky stated, "Women have more than arrived on the scene."