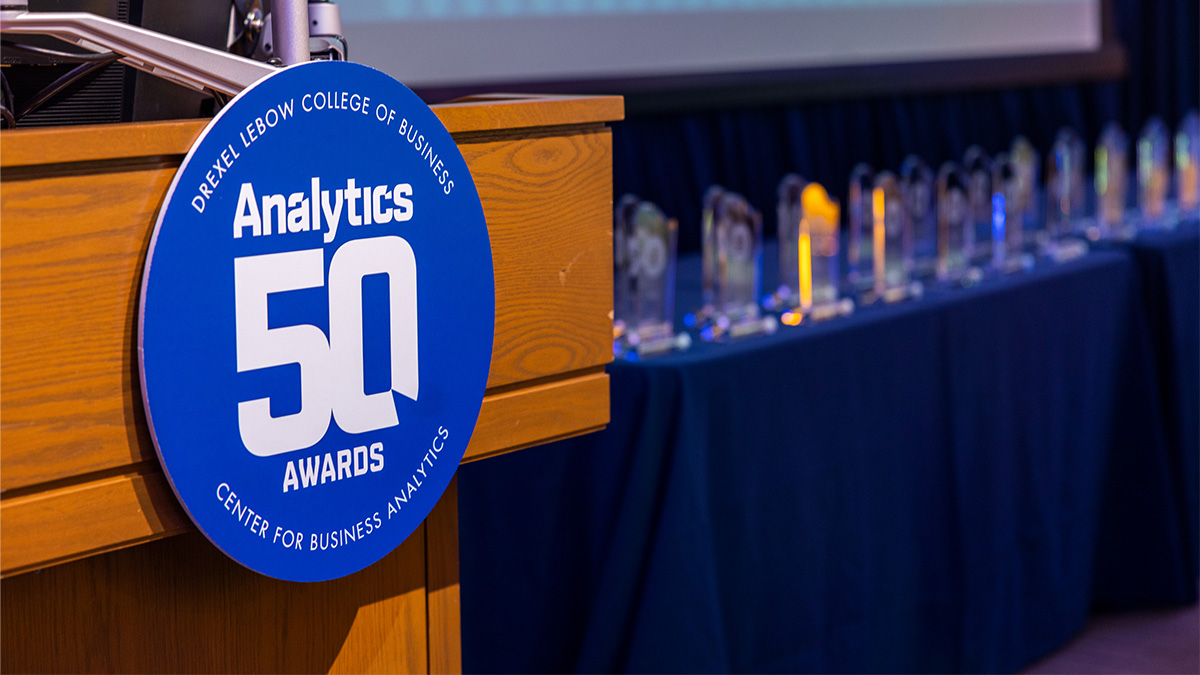 Drexel LeBow Alumni Lead Award-Winning Analytics Projects
The Drexel LeBow Analytics 50, a national recognition of organizations using analytics to solve business challenges, held its 2023 awards ceremony on Oct. 5 in Gerri C. LeBow Hall at the LeBow College of Business to recognize this year's honorees.
Among the industry leaders recognized by LeBow's Center for Business Analytics for outstanding use of data analytics at their respective organizations were five Drexel LeBow alumni. Each led the analytics project that earned recognition this year.
As Center for Business Analytics Executive Director Diana Jones noted in her remarks, "the Center's life cycle of engagement introduces data-driven decision-making to middle and high schoolers, delivers practical experiences to undergraduate and graduate students, fosters connection with alumni throughout their careers and highlights the expertise of practitioners."
"It's exciting to honor the successes that LeBow alumni have achieved by leveraging their data for impact within their organizations," Jones added. "Each of their initiatives drives business outcomes through the power of analytics — the same alignment emphasized throughout LeBow's business analytics programs."
From fields spanning finance and law to medical data and telecommunications, these alumni exemplify LeBow's commitment to industry engagement and focus on innovative solutions.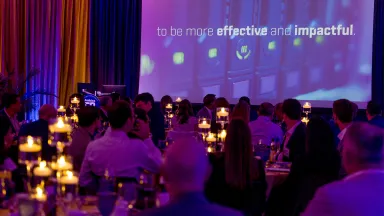 Patrick Callahan '93
Head of Data and Analytics
LabWare
LabWare created a data science engine that enables the labs to do analytics on their own data. The company's data science engine leverages the power of R and Python to enable laboratories to analyze their complex and voluminous data and make predictions with ease. With the engine, laboratories can identify patterns, extract insights and gain a deeper understanding of their data to make informed decisions.
Stuart Green '89
Senior Vice President and General Manager, Life Sciences
Veradigm
Through collaboration with the American College of Cardiology and Moderna to tackle vaccine-associated myocarditis head-on, Veradigm assembled a collection of real-world data from multiple sources to construct a patient's complete health care journey with potential vaccine-associated myocarditis, which required incorporating multiple disparate data sources and bringing all elements together into a single data easy-to-use platform by leveraging passive and active data collection. On this digital platform, a panel of cardiologists can interrogate the data, communicate with the primary managing health care practitioner and gather additional insights. This analytic platform can serve as a basis for additional work concerning COVID-19 vaccine safety and better understanding the underlying disease.
Shawn Lehocky, MBA '23
Chief Executive Officer
Pond Lehocky Giordano
The firm built an algorithm that analyzed clients' files, matching critical information against keywords to identify liability and damages in mass tort, single event, Social Security disability, workers' compensation and employment law cases. This solution involved word frequency counters and external data sets to cleanse and structure the information into a workable database, and its success led to the creation of a dedicated department for mining new cases from the firm's existing inventory. From a business perspective, this innovation has significantly increased revenue, improved client return rate and boosted customer lifetime value by 20 percent. As a result, the firm has experienced exponential growth and established a nationwide network of exceptional law firms capable of handling any type of case in any location.
Ernie Pighini '86
Executive Vice President, Finance
Comcast
To further build on the success of the Controllership's automation efforts, the Digital Changemaker program was established. The program was designed for high-potential, digitally focused employees embedded within operations teams to accelerate citizen-led automation efforts. Beyond just addressing workload constraints within the Controllership through automation, the primary focus is to invest in employees' professional and leadership development. Building a digitally minded workforce that is empowered to think outside the box and execute their own ideas not only benefits the Controllership's culture and impact, but it also benefits the entire company, as the skills are transferable to any organization. One hundred fifty automations have been built, saving approximately 22,000 hours of annualized work hours and an estimated $10 million in business benefit.
Tarun Sood '04, DBA '23
Chief Data Officer
American Century Investments
American Century Investments (ACI) applied natural language processing (NLP), optical character recognition (OCR) and machine learning in a small proof-of-concept for the municipal credit initial offering document and ongoing disclosure documents and showed the potential benefits of continued experimentation. ACI also partnered with a group of Drexel LeBow business analytics students to automate an NLP-driven summary sheet, which generated additional derived metrics that allowed analysts to measure and compare bonds, relative metrics and ratings such as weighted average of yield and credit quality score and weighted average of risk metrics.