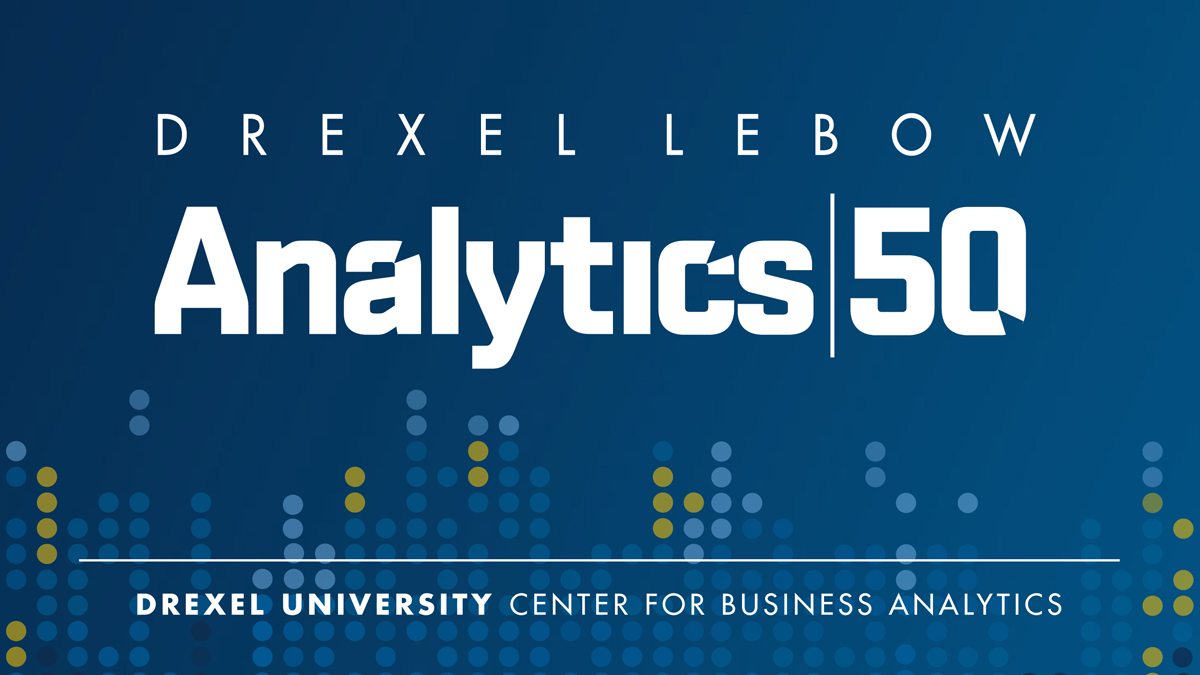 Efficiency, Integrity and Transparency Set Apart the 2023 Drexel LeBow Analytics 50 Awardees
Since its inception, the Drexel LeBow Analytics 50, presented by LeBow's Center for Business Analytics, has recognized national excellence in organizations pursuing data-driven solutions.
Enterprise-level initiatives with an emphasis on data management, efficiency and transparency are prevalent among the 2023 Drexel LeBow Analytics 50 honorees, which also represent a diverse range of industries, including health care, law, retail, investment management, real estate, insurance, government and telecommunications, among others.
"In our fifth iteration of recognizing analytics distinction, we're seeing more companies taking steps to achieve holistic views of their data," said Diana Jones, executive director of the Center for Business Analytics. "Several of this year's honored efforts reflect this type of transformation – garnering a more comprehensive understanding of the business that allows companies to make impactful decisions."
The honorees span the United States, with major multinational companies, including Best Buy, Comcast, Honeywell, Intel and Verizon, as well as local and regional firms, such as behavioral health technology company NeuroFlow and digital marketing agency FourFront, both of which are based in the Philadelphia area.
With regard to impact on individuals, the work of the American Medical Group Association (AMGA), a Virginia-based healthcare association, stands out. Through examining electronic health records from 21 of its members, AMGA sought out to improve measures for screening for colorectal cancer, the second-leading cause of cancer deaths in the United States, and to identify and resolve gaps in their screening practices. AMGA has seen both improved patient experiences and better alignment with medical professionals as a result.
For Precisely, a data integrity firm based in Massachusetts and a collaborative partner with the Center, a series of mergers and acquisitions led to a glut of new customer data. The company then utilized its own data integrity solutions, which it provides to clients, to streamline its internal data holdings. This action further strengthened the company's commitment to a company-wide "data culture."
Closer to home, the City of Philadelphia's Office of Immigrant Affairs (OIA), in collaboration with the city's Office of Innovation and Technology, was nominated for a wide-ranging project centering on the use of foreign languages on city government forms and websites and the availability of translation services. The data that OIA collects from numerous vendors and city agencies now feeds into a dashboard that tracks language usage and provides a more accurate and easy-to-use tool for both city employees and individuals who utilize city government services.
Across the field of nominees, companies are integrating various technologies — notably, AI and machine learning, cloud-computing, natural language processing and neural networks — to accelerate decision-making processes.
"These initiatives reflect organizations' increased prioritization of and investment in emerging technologies to gain operational efficiency" said Murugan Anandarajan, PhD, professor of decision sciences and MIS and academic director of the Center for Business Analytics.
The honorees were selected by a panel of researchers and practitioners who judged nominations based on the complexity of the business challenges they faced, the analytics solutions implemented and the solutions' business impact on the organization. All honorees will be recognized at a ceremony in October 2023.