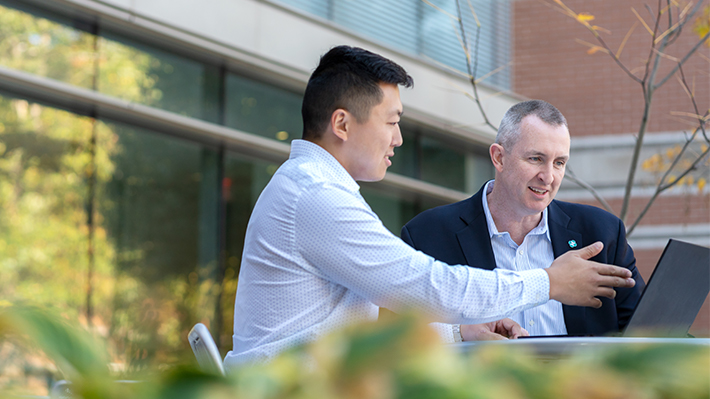 Drexel Solutions Institute and Merck Launch Leadership Program for Diverse Suppliers
Drexel University announced a collaboration with Merck & Co., Inc., to establish a new leadership program that will help diverse business owners enhance their leadership and business acumen and strengthen and grow their companies. The inaugural cohort of "The Merck Drexel Advanced Leadership Program for Diverse Suppliers (Merck Drexel ALP)" began coursework for the four-month certificate program last week.
This new initiative is the latest collaboration between Merck and the University and is being managed by Drexel's Solutions Institute, which serves as the gateway for industry to connect with and leverage the University's capabilities.
"We are thrilled to be able to further expand our relationship with Merck to help support their diversity, equity and inclusion efforts," said Anna Koulas, vice president of the Solutions Institute. "The Merck Drexel ALP is a testament to the collective responsibility that both Drexel and Merck feel to further support and encourage the shift for more diversified leadership to be at the proverbial table."
The inaugural cohort for Merck Drexel ALP have been recruited from across the United States through a collaboration with Diversity Alliance for Science (DA4S). They represent companies spanning the pharmaceutical supply chain. The program will run between March and June 2021 and will be delivered through a combination of live virtual classroom and online asynchronous modules to foster continued cohort connection throughout the program. Participant tuition is sponsored by Merck.
"At Diversity Alliance for Science our vision is to be the leading advocacy organization in the life science and healthcare industry promoting the economic growth of diverse businesses and improving the quality of patient care by fostering intimate relationships between those businesses and corporations," said Kathy April Rush, president, Diversity Alliance for Science. "We know one guaranteed way of delivering on this is through continued entrepreneurship development and education. Being selected by Merck for the inaugural Drexel cohort is tremendously exciting for our members and we look forward to the positive outcomes and transformations they will experience."
"At Merck, we recognize that supplier diversity positively impacts the global community. We believe that the success of the society as well as our company depends on enabling diverse businesses to share and grow in the global market," said Susanna Webber, senior vice president and Chief Procurement Officer at Merck. "The Advanced Leadership Program for Diverse Suppliers, developed with Drexel, allows us to deepen our relationships with diverse business owners and invest in their development by creating training programs that expand their capacity, skill level and growth potential."
Merck Drexel ALP participants will engage with LeBow College of Business faculty, Merck subject matter experts, supplier peers and other business leaders in thought-provoking, facilitated discussions and curated content to enhance self-reflection and personal development while building relationships across the broader community network. Modules include coursework in leadership and team building; finance and operations; communications, branding and digital strategy.
"The Merck Drexel Advanced Leadership Program's evidence-based and experiential curriculum was designed with a focus on three integrated pillars: to advance diverse supplier career and company opportunities, to accelerate leadership and business capabilities, and to activate relationships and strengthen the overall network," said Kris Risi, MBA, PhD, LeBow's associate dean for Corporate, Executive Education, and Innovation. "Creating applied learning opportunities to promote a stronger, more resilient diverse supplier community is even more critical as we emerge from the pandemic."
Participant Eddilisa Martin of 2M Research said she was excited to join the program because it will help her learn and grow her leadership abilities in a purposeful way.
"Often times when running your own company you learn many leadership and business lessons by trial and error," said Martin. "Most of our leadership team comprises scientists who haven't been trained formally in business, so I'm excited to learn about evidence-based business and leadership practices that I hope will ultimately help me continue to grow and strengthen our business."
The Solutions Institute provides business solutions to Drexel's corporate and nonprofit partners, including top-tier talent pipelines, customized training and development programs, as well as interdisciplinary research-based solutions that draw upon the University's world renowned R1-research capabilities. The Institute works in partnership with Drexel's LeBow College of Business and its Corporate and Executive Education teams to create customized learning and development solutions that meet the needs of today's industry challenges.
Developed through a comprehensive analysis of each partner company's needs, LeBow's corporate and executive education programs emphasize professional development and skill-building with quantitative analysis of impact on individual participants and overall business performance.