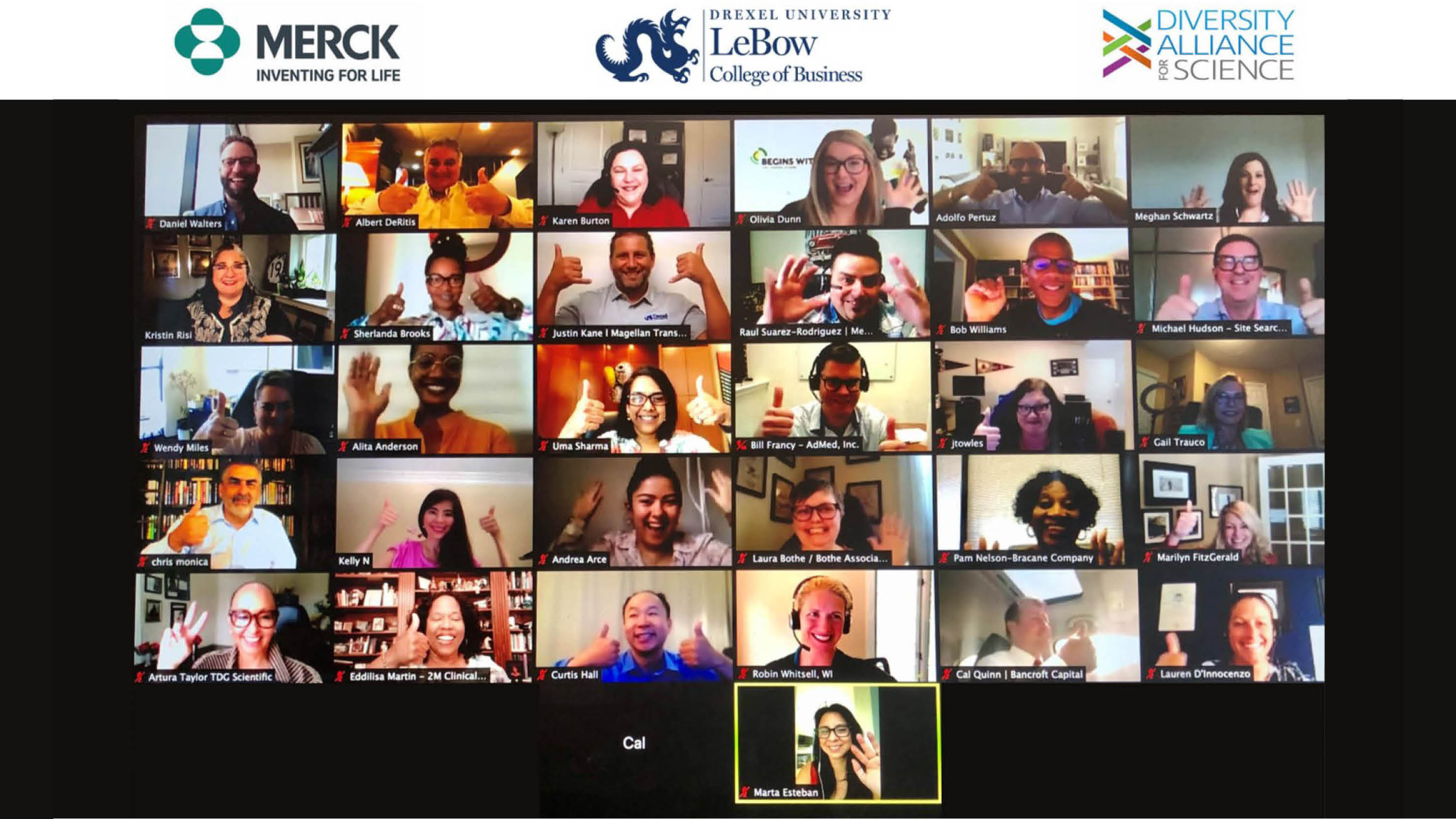 Merck and Drexel Continue Leadership Program for Diverse Suppliers
After the success of its inaugural program in 2021, Merck & Co., Inc., and Drexel University continue their collaborative leadership program helping diverse business owners enhance their leadership and business acumen and strengthen and grow their companies. The second cohort of "The Merck Drexel Advanced Leadership Program for Diverse Suppliers (Merck Drexel ALP)" will begin coursework for the four-month certificate program in May 2022.
This initiative between Merck and the University is being managed by Drexel's LeBow College of Business' Krall Center for Corporate and Executive Education and the Drexel Solutions Institute.
"A strong focus on external partnerships and advancing diverse communities are both at the heart of the Drexel LeBow Strategic Plan," said Vibhas Madan, PhD, Dean and R. John Chapel, Jr. Dean's Chair at Drexel's LeBow College of Business. "Merck is a valued Drexel partner and with the continuation of the Merck Drexel ALP we look forward to continuing to work together. Our communities' success depends on creating stronger representation and enabling diverse business owners to share and grow in the market."
The second cohort for the Merck Drexel ALP is being recruited from across the United States through continued collaboration with the Diversity Alliance for Science (DA4S). The incoming class will represent companies spanning the pharmaceutical supply chain. The program will run between May and August 2022 and be delivered through a combination of live and virtual modules to foster continued cohort connection throughout the program, culminating in an in-person graduation for last year's inaugural cohort and this year's participants. Participant tuition is sponsored by Merck.
"The inaugural Advanced Leadership Program for Diverse Suppliers met its goal in allowing us to deepen our partnerships with diverse business owners and invest in their development," said Susanna Webber, senior vice president and Chief Procurement Officer at Merck. "At Merck, we believe that the success of society and our company depends on enabling diverse businesses to share and grow in the global market. Our collaboration with Drexel allows us to grow mutual value and create a lasting impact on the businesses and communities where we live and work."
Merck Drexel ALP participants will engage with Drexel faculty, Merck subject matter experts, supplier peers and other business leaders in thought-provoking, facilitated discussions and curated content to enhance self-reflection and personal development while building relationships across the broader community network. Modules include coursework in leadership and team building; finance and operations; communications, branding and digital strategy.
"We are proud to continue our collaboration with Merck in this shared commitment to supporting the diverse supplier community through the Merck Drexel ALP. This program exemplifies Merck's longstanding engagement and 37-year commitment to economic development and supplier diversity and leverages Drexel's depth of experience in collaborating with industry." said Kris Risi, Drexel associate dean for Corporate, Executive Education and Innovation at Drexel's LeBow College of Business. "The inaugural cohort's energy in response to the program and their commitment to the shared learning environment was truly inspiring. We are looking forward to welcoming the second cohort to the program along with the insights and experiences they will bring to this vibrant community."
Participant Michael Hudson of Site Search & Select, Inc. said he was excited for the opportunity the program awarded him to grow his company and his leadership skills. "This is a rare opportunity in one's career to participate in a cutting-edge program with business implications that will set my company apart from our competitors, and at the same time, allow me to strengthen my professional strategies to keep my company a viable supplier partner to my clients and a true leader with diverse approaches and unique solutions that will exceed our client's wildest expectations," said Hudson.
In addition to the intensive curriculum and practical experience, participant Eddilisa Martin, MD, of 2M Research was appreciative of the opportunity to join her peers in a mutually supportive and lasting network. "I think it is a rare treat for us to be able to network with each other in a noncompetitive environment and gain the insights that these experienced people have and see it from a different point of view," said Martin.
Drawing upon Drexel's R1-research capabilities and rich history of experiential learning, the Krall Center for Corporate and Executive Education in Drexel's LeBow College of Business works in partnership with the Drexel Solutions Institute to provide corporate and nonprofit partners with comprehensive solutions, including top-tier talent pipelines, customized learning and development programs and interdisciplinary research-based solutions. They work together to create customized learning and development solutions that meet the needs of today's industry challenges.
About Merck
For over 130 years, Merck, known as MSD outside the United States and Canada, has been inventing for life, bringing forward medicines and vaccines for many of the world's most challenging diseases in pursuit of our mission to save and improve lives. We demonstrate our commitment to patients and population health by increasing access to health care through far-reaching policies, programs and partnerships. Today, Merck continues to be at the forefront of research to prevent and treat diseases that threaten people and animals – including cancer, infectious diseases such as HIV and Ebola, and emerging animal diseases – as we aspire to be the premier research-intensive biopharmaceutical company in the world. For more information, visit www.merck.com and connect with us on Twitter, Facebook, Instagram, YouTube and LinkedIn.