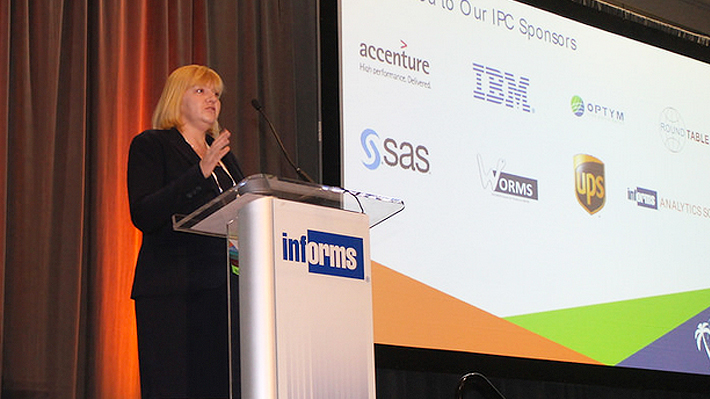 Elea Feit Chairs INFORMS Analytics Conference
When Elea Feit was chosen to chair a conference for analytics practitioners, she was honored, if admittedly aware of the irony of having a marketing professor serve in that role. Her research and writing regularly focus on analytics issues, but she points out: "I am truly passionate about the practice of analytics. It's not enough for professors to write papers and teach students; we need to change the world by making it better for practitioners."
The annual INFORMS Conference on Business Analytics & Operations Research draws analytics professionals from across North America and is centered on a competition that awards a prize for the best application of analytics at a company. In her role as chair of the organization committee, Elea oversaw the selection of presenters and plenary speakers.
The presenters were drawn from large companies and innovative startups alike. The winning presentation was delivered by analytics professionals from UPS who discussed a real-time analytics system they built to help route drivers and increase their efficiency.
The plenary speakers provided an interesting perspective on how analytics are being utilized in companies of different sizes. The first explored how Ford Motor Company is infusing the newest analytics techniques into an old and established corporation, and the second detailed how Uber's newest start-up, Uber Eats, is using data at the beginning stages of their business model.
Witnessing the latest practical applications of data by companies is important to Elea. "At LeBow, we sincerely want to make sure our students are prepared for jobs in the industry, so observing these issues helps me ensure that students know what the cutting edge issues and technology are in the field of analytics," she says.
Drexel LeBow also served as an event sponsor, a partnership that serves to spread LeBow's brand in multiple ways. "LeBow's involvement at the conference was an exciting opportunity to generate awareness of the College's analytics programs," says Diana Jones, assistant director of LeBow's Dornsife Office for Experiential Learning. "It's also an excellent way to build and reinforce industry relationships."