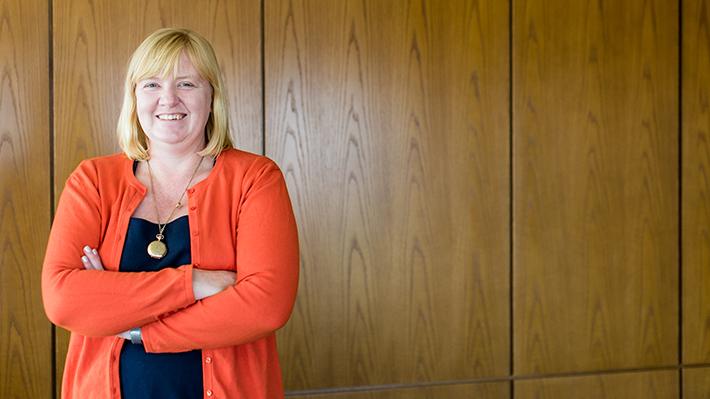 Elea Feit Receives Top Analytics Educator Award from Digital Analytics Association
Whether she's teaching LeBow undergraduates the fundamentals of A/B testing or digging into technical details of programming languages like R and Python, Associate Professor of Marketing Elea Feit, PhD, is focused on equipping her students with practical analytics skills.
That dedication was recently recognized by the Digital Analytics Association (DAA), which presented Feit with the Top Analytics Educator award at the organization's OneConference on Oct. 6. The DAA's annual "Quantie" awards recognize the best individuals and agencies in analytics, and the Top Analytics Educator was added to the lineup for the first time this year.
"I feel so proud to have been recognized by a group of professionals who are doing marketing analytics in the real world," she says. "It really validates the work I do as a teacher and a researcher, which is really focused on practical issues in digital analytics."
Feit has been involved with the DAA's Philadelphia chapter for several years, including hosting the chapter's Philadelphia Symposium, focused on ethics in analytics, at LeBow in 2017.
"It brings me great pleasure to see Elea Feit recognized with the 2021 DAA Quantie Award for Top Analytics Educator, a new category this year," said David McBride, DAA board president. "The panel of judges who evaluated finalists in this category had a difficult task. They selected Elea because of her groundbreaking research in marketing analytics, her ability to speak the languages of both theory and practice and her success in shaping students who are new to the field and who will shape the future of analytics."
McBride also noted a strong endorsement by Kelly Wortham and Tim Wilson from the digital ad agency Search Discovery, who nominated Feit for the award: "If you're hiring for marketing associates and optimizers, start by recruiting from Elea's graduates!"
In nominating Feit, Wortham and Wilson cited her Data-Driven Digital Marketing course, in which undergraduate students identify a small business as a client, purchase digital ads on their behalf and analyze the ads' performance.
Feit says she feels experience in classes like this one, along with additional hands-on work from consulting courses and the Drexel Co-op program, sets her students apart.
"They have knowledge of how things work in the world, and that comes through in their interviews for jobs and co-op positions," she says. "They're always willing to try things and not afraid to fail, and that's key to the model of experiential learning that Drexel puts forward."