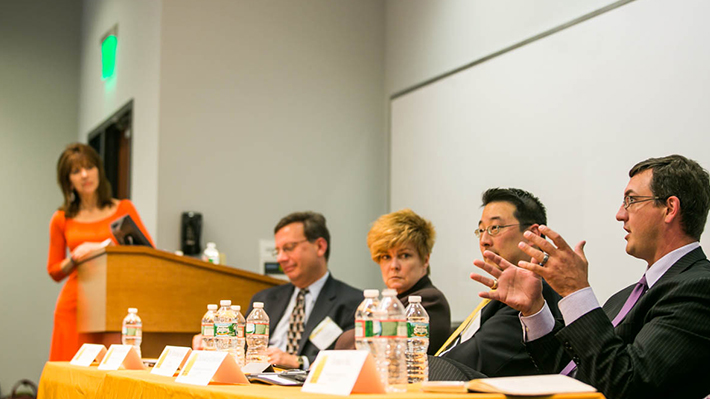 Entrepreneurial Thinking: A State of Mind
What do you get when you put a room full of successful executives and great academic minds together? The Executive MBA Alumni Continuing Education Summit. Held May 17, the day-long event attracted more than 60 alumni and notable presenters to discuss topics centered around the program's theme, "Entrepreneurial Thinking: A State of Mind for Success and the Future."
EMBA Associate Director Charlotta Thunander considers this year's Summit an unprecedented success because attendance included alums from early graduating years.
"We joke that it takes 20 months and a lifetime to finish an EMBA at Drexel LeBow because every EMBA alum should attend the annual summit," Thunander adds. "It's continuing education. It's a way to meet former classmates and stay on top of what is in the forefront of business. It's really a worthwhile event."
This year's theme was "Entrepreneurial Thinking: A State of Mind for Success and the Future." The day-long event featured many highlights, including the opening address given by Joel Naroff, president and founder of his namesake advisory group. The economist underscored the importance of understanding the economic climate when considering new business ventures. Along the same lines, Meg-Columbia Walsh, chief marketing and sales officer of Sunergos and founder and CEO of Inverse Mobile, emphasized that businesses need to closely track how consumers are receiving messages to market most effectively to them. During the lunch break, Richard Hayne, CEO, president and chairman of the board of Urban Outfitters, shared how his uber-successful business has evolved by watching his target market grow up. As consumers age, Urban Outfitters, his flagship business, became less relevant to aging consumers, so he created new product lines and Anthropologie to keep his customer base. Tracking consumer behavior is essential if businesses are going to succeed, he suggested.
The afternoon panel discussion, moderated by Close School Dean Donna DeCarolis and Ola Ekundare, EMBA 2010 alumnus and director of Customer Service and Strategy at Comcast, became a lively discussion among the panelists and attendees as the panel members—Al Altomari, president and CEO of Agile Therapeutics; Columbia –Walsh; Zachariah Conover, EMBA 2004 and vise president of business development at UrsaNav; Daren Hill, founder and CEO of WebLinc; and Youngmoo Kim, assistant dean of Engineering and Media Technologies and director of the ExCITe Center at Drexel, shared their career perspectives on whether innovation and entrepreneurship were one and the same. And as all good panels discussions go, the conversations shifted to a variety of topics including panelists sharing how they made certain business decisions throughout their careers.