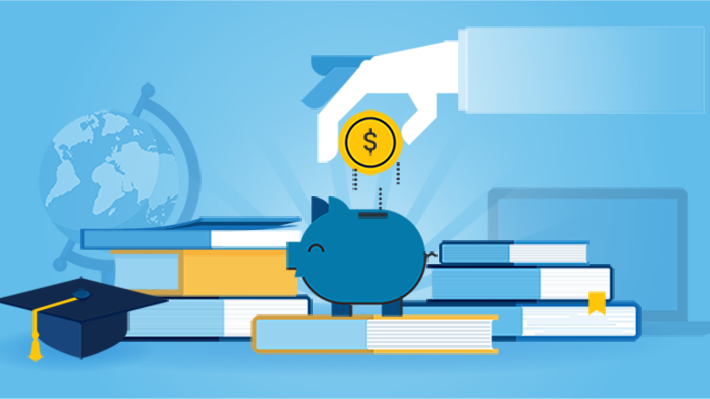 Financing Your MBA: Student Loans, Scholarships and More
Drexel LeBow offers a customizable MBA and specialized master's programs, available in full-time and part-time plan of study options. Learn more about our graduate programs today.
Paying for higher education may seem challenging, but Drexel LeBow has resources in place to provide you with information on how to obtain financing. When creating a plan to finance your MBA, it's important to know what options are available. Whether you're seeking scholarships, MBA loans, or company sponsorship, knowing the benefits and risks of each option is essential.
Types of MBA Loans
Loans are financial obligations chosen by students that require repayment at a specific date. There are two primary types of loans: federal or private.
Federal Direct Loans
There are two primary types of federal loans. Be sure to consult with a financial aid advisor for guidance on choosing the right one for your needs.
Unsubsidized Loan – Interest starts to accrue on the loan after it disburses to the student's account.
Graduate PLUS Loan - This is a credit-based loan that requires a separate application in addition to completing the FAFSA. Students can apply online at studentloans.gov.
Private Education Loans
Private education loans are credit-based and can be used to pay for education-related expenses up to the cost of attendance for a specific academic year of enrollment. Interest rates, terms, conditions, and eligibility requirements will vary.
Learn more below about loans that you may be eligible for, as well as requirements to receive loans you have been offered. Please visit Drexel Central.
Drexel LeBow MBA Scholarship Opportunities
Scholarships are a great way to pay for your education as you won't have to repay the money provided to you. While financial aid advisors can guide you through researching and applying for scholarships, Drexel LeBow applicants are automatically considered for certain scholarships upon application, including:
Merit Based Scholarship - With the support of our alumni, LeBow is pleased to offer the Alumni Merit Scholarship to top applicants in both the MBA and MS programs.
LeBow College Underrepresented Minority Scholarship - As a University, we are committed to supporting our diverse community.
Company Sponsorship for an MBA
Getting your company to sponsor your MBA degree is one of the best investments your company can make! Through your degree program, you will develop advanced skills and gain new insights that will immediately benefit the organization. Ask your employer if company sponsorship is an option for you.
Determine How to Pay for Your MBA Degree
If you've already applied for scholarships and still need additional support, it's important that you know how to navigate the student loan process.
Here are some quick tips to remember when applying for student loans:
Do your research – know the terms of your loan agreement
Ask a Drexel Central representative to help you understand the total cost of your program
Make smart money decisions – don't take out more money than is needed
Create a timeline or plan for payback that is realistic