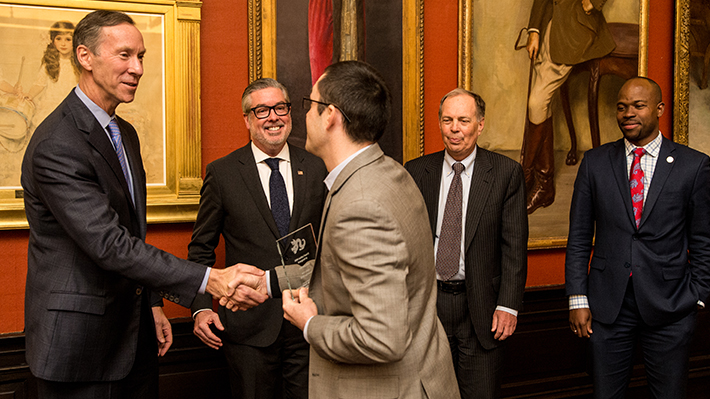 First Vanguard MBA Cohort Earns Degrees From Drexel LeBow
On December 13, the first cohort of Drexel LeBow MBA at Vanguard students officially became graduates of Drexel University's LeBow College of Business. The part-time accelerated program began in 2014.
Drexel partnered with the Vanguard after a rigorous selection process led by Vanguard University to create a new custom corporate MBA curriculum with highly relevant and experiential courses for Vanguard crew from departments across the company and office locations around the world. Leveraging the design and delivery experience of LeBow's Corporate Relations and Executive Education, nearly every course in the program was designed specifically to meet Vanguard's needs.
Vanguard invests in and supports crew members selected for the program by sponsoring all of those who've enrolled. Classes in this hybrid program were held at the College's Malvern campus, located only a mile from Vanguard's headquarters.
Amy Chain, senior manager and head of education savings marketing at Vanguard, was a member of the first cohort and says she appreciated the "academic rigor provided by Drexel alongside the support provided by Vanguard."
Kathryn Thompson, a talent selection and learning manager in Vanguard's Retail Advice division, says the program created a strong network amongst the Vanguard employees who may work in different departments or office locations. "Our network includes much diversity of thought from throughout Vanguard. And the company's support was amazing."
Keir Foad, an institutional relationship manager who works in Vanguard's London office, participated in the program remotely. He says: "The quality of the staff was excellent. What I learned, I can relate directly into my role, and ultimately [an MBA from Drexel LeBow] is a fantastic qualification."
Bill McNabb, chairman and CEO of Vanguard, says that Vanguard chose Drexel LeBow to develop and deliver this program because of the University's progressive approach to education.
"We wanted an institution that could reinvent the way business education is delivered. Reinvention is what we do, too – we are trying to reinvent the way the world invests. That simplification runs contrary to everything we see in the [investment] industry. I think Drexel does think a little bit differently, and I'm just thrilled to see the way this institution is evolving to meet the needs of its students. It's been a great partnership."
He told the graduates that the ROI of this program is "infinite. It's the best money [Vanguard] spends, because we are creating the future. Investing in this program and in you – some decisions are hard, but this decision was easy. You can have great visionary strategy, but if you don't have great people, it never gets executed."
A new element of the program to begin this spring will be an international residency in London. Students from the first cohort will be invited to participate alongside the current cadre of students who began their studies in 2015.
LeBow College of Business Dean Frank Linnehan says LeBow is privileged to be working with Vanguard. "We have been so impressed with Vanguard from an organizational perspective, from a people perspective – it has been an honor for us to work this company that employs really great, really smart individuals."