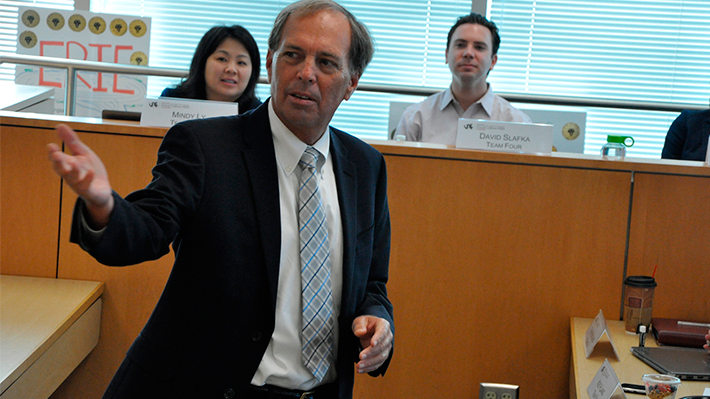 Drexel LeBow and Vanguard Begin Customized MBA Program
Nearly three dozen students selected by Vanguard have begun a customized two-year MBA program being delivered by Drexel LeBow at the business college's campus in Malvern.
Studies began with a four-day residency at which Vanguard chairman and CEO Bill McNabb welcomed the students and described why the investment firm chose Drexel's LeBow College of Business Corporate and Executive Education to provide the customized MBA program.
"Drexel's curriculum will give you feedback on an ongoing basis. Learning by experiencing and doing is a mindset that they share with us," he said. "We wanted high academic standards and a culture of innovative thinking."
Frank Linnehan, Drexel LeBow's dean, who earned his MBA at night while working at GE Capital, told the students: "When I got my MBA, they were the two best years of my working life. You will get to immediately apply what you are learning."
Several of the classes are customized to incorporate challenges and opportunities specific to Vanguard; some of those classes will eventually be modified for incorporation into Drexel's other MBA programs, Linnehan said.
"Today marks new beginnings," said Drexel LeBow Associate Dean Paul Jensen. "For you, this begins an adventure that will challenge all of you. For us, this is the beginning of a partnership with Vanguard. All universities would say that corporate partnerships are important, but at Drexel it's different. We're a research institution focused on experiential learning."
The first class includes 28 students that Vanguard selected from its Valley Forge headquarters, as well as four employees from Scottsdale, Ariz., one from Charlotte, N.C., and one from London. They range from four years of experience with Vanguard to 24 years; they serve in roles such as analyst, manager and technical lead.
Kris Risi, executive director of Corporate and Executive Education at Drexel LeBow, offered this piece of advice to the students: "What got you in the door won't keep you here. Your commitment will."
Drexel LeBow's Corporate and Executive Education office provides thought leadership and business solutions through a variety of programs provided to corporations in the Philadelphia area and around the world. Clients include Independence Blue Cross, Lockheed Martin, City of Philadelphia, and Campbell Soup.