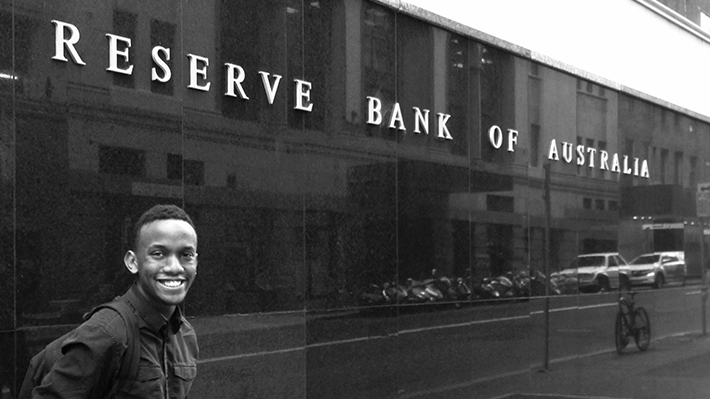 Funding a Co-op Down Under
Philip Barasa is an explorer. As a high school student in Kenya, he sought an opportunity to study in the United States and found the Drexel Global Scholarship. After a year and a half attending LeBow as a double major in economics and math, he felt the pull of yet another cultural leap: "I craved a new perspective altogether," he says.
He found an ideal opportunity through an international co-op with Australian Stock Report – a company with offices in Melbourne and Sydney. The only remaining hurdle was funding. "I applied through the Steinbright International Co-op Program, which come with a scholarship to cover some of the costs. But I needed to find extra funding," says Barasa. "I tried to leverage the networks I had in LeBow."
He approached the director of the economics program, Vibhas Madan, and Assistant Dean of Undergraduate Programs Brian Ellis. They directed him to speak with Dean Linnehan – a prospect that admittedly made Barasa nervous. He remembers entering the dean's office and jumping right into a rapid-fire sales pitch. Dean Linnehan stopped him: "First, why don't you tell me who you are?"
The meeting was ultimately a success and with guidance from LeBow mentors, Barasa applied for and won the R. John Chapel Award. He paired his winnings with an Office of International Programs scholarship that covered airfare and what he earned as a student technician at Creese Student Center to cover final expenses. Barasa left in September to begin work for Australian Stock Report – a trading firm that offers financial research and analysis to retail investors.
The position provided flexibility that allowed Barasa to carve out his own niche. He began each morning with a market research report that he says helped familiarize him with the complexities of the stock market. After some practice, he was given the opportunity to produce an official finance research report – a first for an intern or co-op. His diligence and the quality of his first report led to further opportunity as he was tapped to film videos in the company's weekly Tech Talk series – another first for an intern.
Barasa's time in Australia provided the cultural experience he sought and helped guide his thoughts about future co-ops and eventually career. He has remained highly involved in campus life as the president of Drexel FC, which he describes as "Drexel's premier soccer culture club." He is currently on co-op with SIG in New York City.