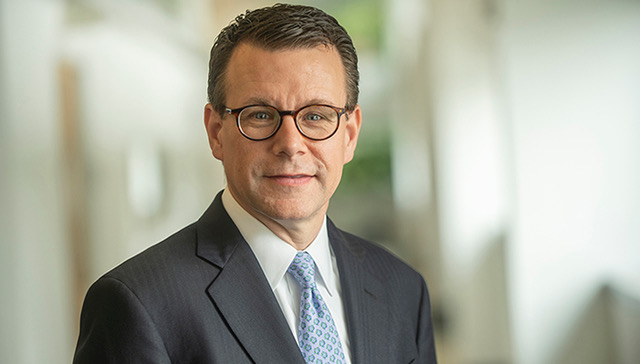 Glenn Booraem Joins LeBow as Industry Chair of the Gupta Governance Institute
Glenn Booraem, a principal in the Office of the General Counsel at Vanguard, has been appointed Industry Chair of the Raj & Kamla Gupta Governance Institute at Drexel University's Bennett S. LeBow College of Business, effective Jan. 1, 2022.
Booraem currently leads a number of cross-functional strategic initiatives across the investment and regulatory landscape at Vanguard, one of the industry's most respected investment management companies. Prior to his current role, he led the firm's investment stewardship efforts for nearly 20 years, during which he represented Vanguard fund shareholders' interests through engagement with portfolio companies and voting at shareholder meetings. Booraem also advocated on behalf of Vanguard shareholders through notable public speaking engagements and his service on advisory boards at the New York Stock Exchange (NYSE), The Conference Board and the Sustainability Accounting Standards Board (now part of the Value Reporting Foundation). He also served as a founding member of the Investor Stewardship Group. Booraem joined Vanguard in 1989 as a fund accountant, eventually serving as the controller and treasurer of each of the Vanguard Funds.
Booraem serves on the board of the Philadelphia Chapter of the National Association of Corporate Directors and the Vickie and Jack Farber Institute for Neuroscience Campaign Committee at Jefferson Health, and he is a graduate of Temple University and the Advanced Management Program at the Harvard Business School.
As Industry Chair, Booraem will be very involved with the Gupta Governance Institute and will act as an important advisor to new academic director, Paolo Volpin, PhD, and interim director, Cassandra Brown. "We are thrilled and so fortunate to have Glenn with us at the Gupta Governance Institute. Glenn's experiences from a practitioner perspective, as well as his strategic mindset, will help us to position the Gupta Governance Institute as a thought leader in the governance space," said Volpin.
"As a long-time observer of the Institute's work, I'm looking forward to engaging with the leadership team and our Advisory Board to continue building upon the Institute's strong foundation of governance advocacy thanks to the generous support of Raj and Kamla Gupta," said Booraem.