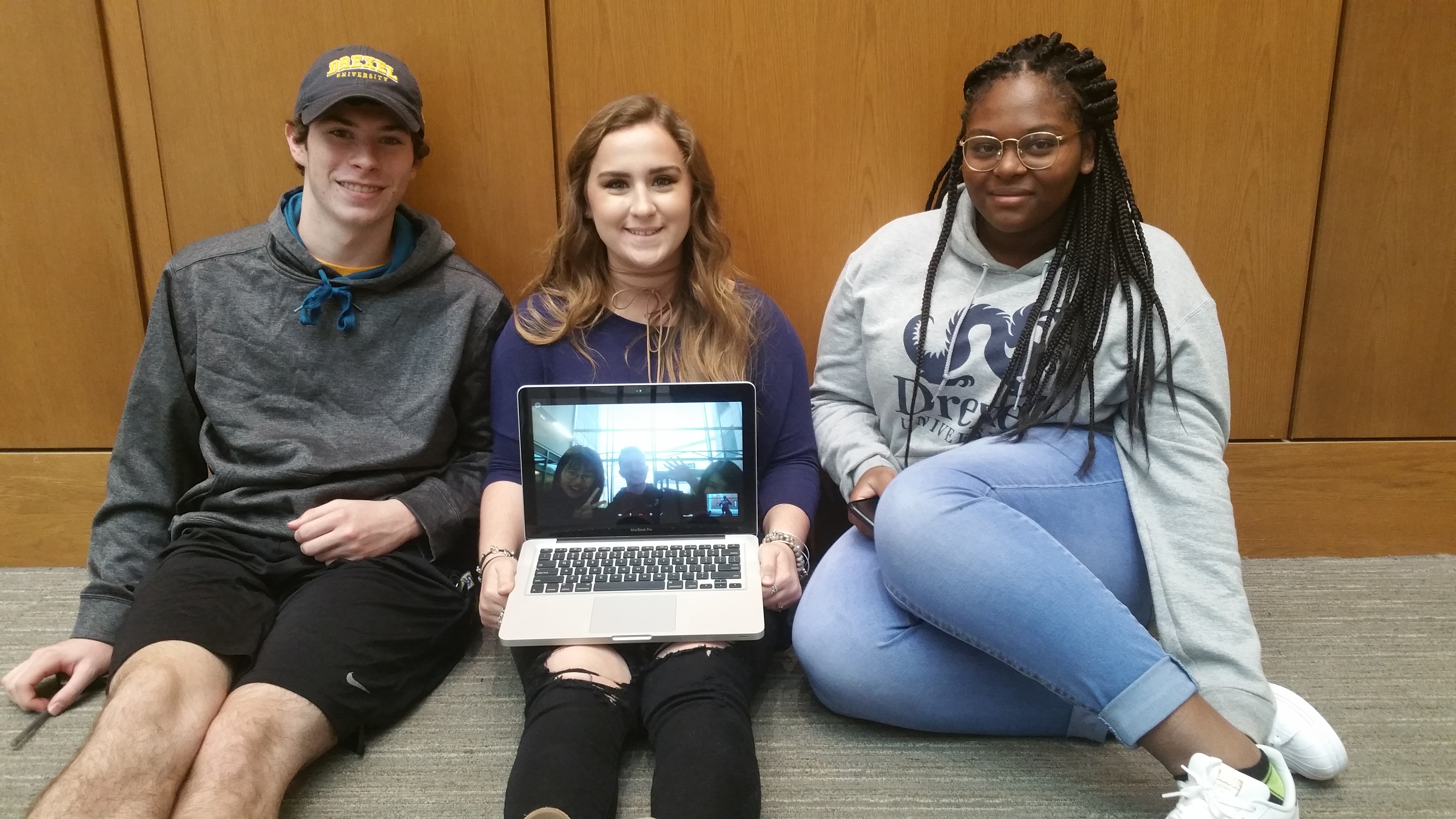 Global Classroom Students Make International Connections
"Use Skype, WhatsApp, Facetime, Google Hangouts… however you want to connect."
That's how Dana D'Angelo, Clinical Professor of General Business, kicked off a transatlantic collaboration between first-year students at LeBow College of Business and their peers at University of Leeds in the United Kingdom. Before long, new faces were flashing across smartphone and laptop screens as apps typically used for chatting with friends helped launch an international team-building exercise.
This week's class marked the fourth year of collaboration between Drexel LeBow and Leeds through the Global Classroom program, an initiative supported by the Office of International Programs, for first-years in the Pennoni Honors College and the Global Learning Community. D'Angelo and Jodi Cataline, Clinical Professor of General Business, lead two classes of Foundations of Business I students in collaboration with Dr. Emilee Simmons in Leeds, whose students are enrolled in an Introduction to Entrepreneurship class at Leeds' Center for Enterprise and Entrepreneurship Studies. Both sets of students "are learning about markets in another country, how to collaborate across time zones, and how to understand and appreciate cultural differences," said Cataline. There are over one hundred students enrolled in the Global Classroom, divided equally between Drexel LeBow and Leeds.
The two groups of students got off to a rapid start through sharing personality styles and strengths, generating ideas and brainstorming potential product offerings and markets. This team-based creative work will take shape over the course of the quarter, culminating in a 6 minute pitch to a panel of "investors," in the style of the TV show Shark Tank, at the end of November. "They're going to do primary and secondary research, conduct interviews and focus groups and find data to support their findings," said D'Angelo.
Elizabeth Manning, a first-year international business major, was surprised to find that her team on the other side of the Atlantic had an even more international makeup than anticipated. "There's one student from England, one from China and one from Japan," she said, after the students who had been strangers to her a week ago had become her partners. "Even though it was a little nerve-wracking at first, I'm excited for it now that it's happening."