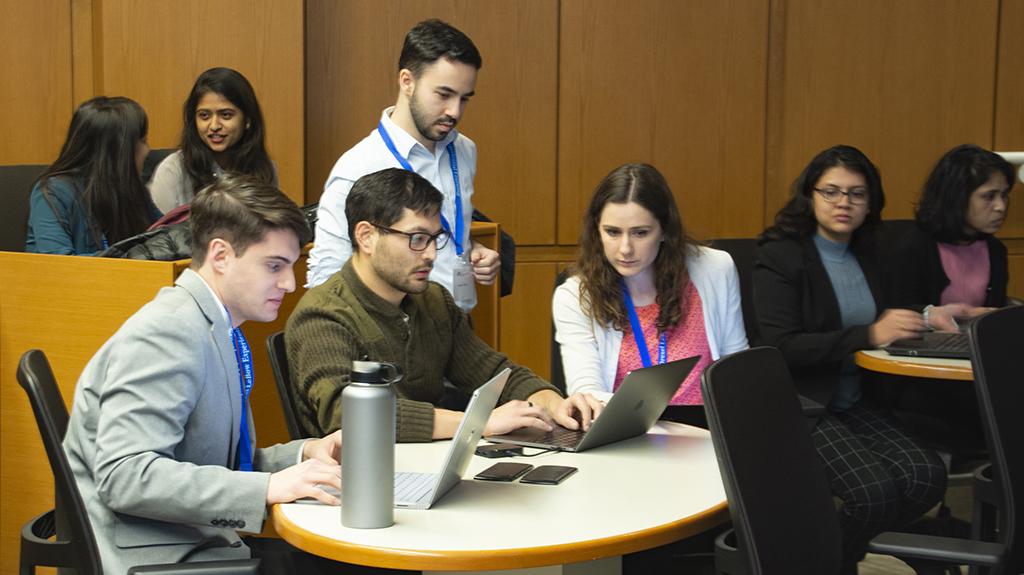 Hitting the Datathon Jackpot With Caesars Entertainment
More than 50 students gathered to participate in LeBow's fourth annual graduate Datathon, an analytics competition that tasks teams with leveraging data to solve business challenges.
Hosted by the Center for Business Analytics, the one-day event was held in partnership with Caesars Entertainment, a global casino-entertainment empire with destinations across four continents.
The competition reflects the college's commitment to developing career-ready students through experiential learning and industry collaboration – central components embedded within LeBow's curricular and co-curricular offerings.
Students in MS Business Analytics, MS Marketing and MBA programs assembled into eight teams in Gerri C. LeBow Hall, spending the majority of the seven-hour marathon conducting research, processing and analyzing data and developing forecasting models.
Their task, using the revenue data from Caesars Entertainment's New Jersey casinos, was to develop a forecasting model to estimate Caesars' potential share of gross gaming revenue in Pennsylvania. Teams also used census data to develop assumptions on which the forecasting models were formulated.
Teams were evaluated by the innovativeness of their forecasting models, their incorporation of external data sources, the quality of their analyses and data processing and their presentation of forecasts and insights. Jennifer Galle, regional vice president for Caesars Entertainment, served as a judge, along with assistant professor Charles Liu and professor Murugan Anandarajan from LeBow's department of decision sciences and MIS.
"My colleagues and I benefited from the students' fresh perspectives, and we hope that this experience may have also opened the door for students to considering a career in our industry," Galle said.
The first-place team was comprised of seven students in the MS Business Analytics program: Drew Armstrong '19, Mrunal Bokil '19, Alex Graber '19, Chetana Kamble '19, Irina Nedelcu '19, Eugene Olkhov '19 and Matt Shaw '19
Though the seven students worked as a team, they each received an individual prize, courtesy of Caesars: a two-night stay with complimentary meals at Caesars Atlantic City Hotel and Casino.
"It's easy to get excited about the methodology and lose sight of what the key business question is and what the data will support," said Graber. "Once we could justify that our assumptions were appropriate, we were able to develop forecasts. The majority of our work was arranging the data in a structure we could use to validate our assumptions."
"For any modeling technique we learn, it's crucial to understand not only how to implement the model, but when it's appropriate to do so," added Shaw. "The business question and data available for the analysis should drive the method that's used."