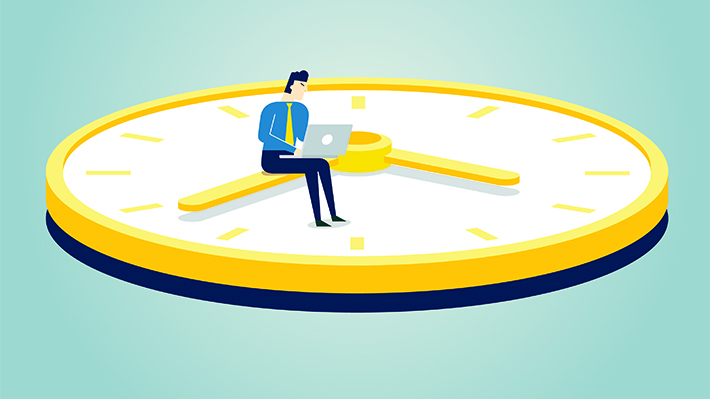 How Long Does It Take to Complete an MBA?
Drexel LeBow offers a customizable MBA and specialized master's programs, available in full-time and part-time plan of study options. Learn more about our graduate programs today.
Finding the right time to pursue your MBA degree can often be one of the deciding factors for selecting and applying to a graduate MBA program. Whether you're looking to switch careers or advance in your current career, your MBA can be the perfect catalyst to reach the next level on your professional path.
Most MBA programs are offered on full-time and part-time schedules, with online programs and courses offering further flexibility. While your MBA program will take time, it's important to select the delivery options that work best for your availability and goals.
Earn Your MBA on Your Schedule
Graduate programs can be altered to fit your schedule. Whether you desire to take time off from full-time work to pursue your graduate studies or organize your classes around your work schedule, most MBA programs offer a variety of delivery and plan of study options to help you complete your program when and how it works best for you.
Working and Earning a Part-Time MBA
The part-time MBA option is ideal for working professionals looking to complete their graduate studies outside of work hours. With evening, online and residency course options, students are able to pursue their degree without interfering with their daily work schedule.
Typically taking two courses per term, part-time MBA programs can typically be completed over the course of two years. Many programs offer the flexibility for students to take courses as they can, which can extend the time of completion up to six years in some cases.
Working with an advisor to decipher which delivery option is right for you is the best way to gauge how long it will take you to complete your part-time MBA program.
Full-Time MBA Time Commitment and Program Requirements
The full-time MBA provides an immersive experience where students can solely focus on completing their degree, often in a cohort setting. Completing your MBA full-time allows for internship and professional development opportunities that may not be possible while working full-time or completing part-time study.
Full-time MBA programs often call for four or five courses per term or semester with most programs ending within 18 months. Full-time MBA plan of study can be altered to suit your schedule by selecting online courses.
Finding Time for an Online MBA in Your Schedule
An online MBA offers all the flexibility and perks of a part-time MBA without the travel time. Online MBAs can be a great option for professionals who are looking to pursue their MBA without committing to a set schedule.
Most online MBA programs have similar plan of study options to part-time programs. Taking two courses a term, most students can complete the program within two years, though some may select programs that allow you to complete the coursework at your own pace.
Speaking with an advisor to decide which plan of study option is right for you can be the key to completing your program as quickly and effectively as possible.
Take Advantage of the Flexibility of a Hybrid MBA
Many business schools offer MBA options that allow you to combine delivery options that work best for you. Whether you choose a part-time or full-time program, taking some of your courses online can cut down on travel time and help you find more ways to fit completing your MBA into your schedule.
Discover Your MBA Options
If you're looking for guidance on deciding which MBA program is right for you, don't hesitate to get the help you need. Our graduate advisors can discuss which options may work best for you. Reach out to them and send any additional questions to lebowgrad@drexel.edu.