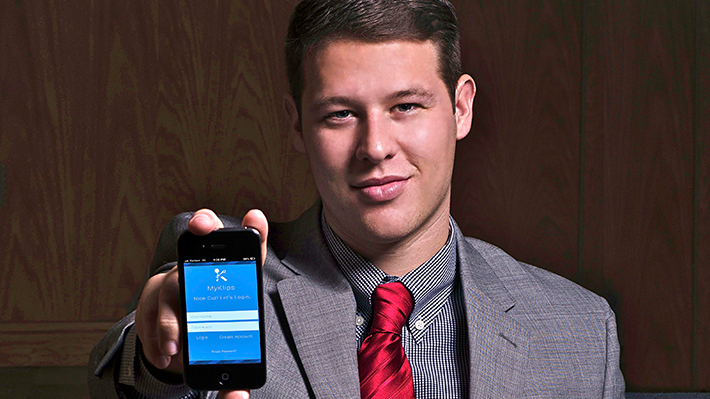 New App Promises Good Hair Days
After complimenting him on his hair cut, LeBow senior Skyler Logsdon says his hair has never looked better. The affable California native is sporting JT's latest cut. But that's this week.
"I keep getting my hair cut," Logsdon says. "It's part of my research." Research?
Logsdon is referring to MyKlipsPics, a new mobile app that helps users keep track of their favorite hairstyles. He developed the app after having too many disappointing experiences with bad haircuts and with barbers who didn't deliver what he wanted.
"I used to sit in a barber chair and stress. Now I can just show him photos of what I like."
With help from Drexel alum Nick Pirollo, the same guy who helped bring Drexel student Christopher Gray's Scholly app to life, Logsdon has just launched MyKlipsPics now available in the iTunes Store. But even before it went live, it was getting plenty of press.
Philadelphia Magazine highlighted the app, calling it the "Hair App of the Future." Sam Lessin, director of product development at Facebook and founder of Drop.IO recently acquired by Facebook for $10 million, recently discussed a need for a hair app on the ValleySwag, a popular Silicon Valley blog, and then found and liked MyKlipsPics on Instagram. Seems like many folks are tired of having bad hair days.
So, How Does the App Work?
MyKlipsPics stores photos of your favorite hairstyles, allowing you or a barber or stylist to view a pic stitch, four sides of a favorite hair cut, and include specific information such as the length of the clipper used or a color formulation in a "notes" section. Seeing all four views of a favorite style provides stylists an immediate visual, eliminating miscommunication that can lead to bad hair days, and the notes area includes a space for the stylist's contact information so the user can remember who created the style. Finally, users can export the photos to Instagram, Facebook and Twitter, garnering coveted Likes.
While this is Logsdon's first start-up, he says it won't be his last. "I've had ideas in the past for businesses, but as a college student I wanted to do something that was reasonable in terms of time and expense." Logsdon started working on the app in July 2013 by conducting market research to determine viability in the marketplace. After determining there was a need, he set up an LLC, a bank account and found Pirollo to begin coding. It's only taken Logsdon eight months to launch the app, but that's really no surprise.
Ever since he arrived on campus three years ago as a sophomore transfer, Logsdon has been an active student, participating in competitions and clubs, striving to make the most of his college experience. He is the recipient of the ALPFA (Association of Latino Professionals in Finance and Accounting) Cares Scholarship, sponsored by Boeing and KPMG, awarded to deserving students of Latino descent studying finance or accounting. Impressed with his credentials, KPMG offered him a full-time position after one interview in LA over winter break. After graduation, he will begin his career as an advisory associate at KPMG International Consulting.
And, of course, his hair looked good for the interview.