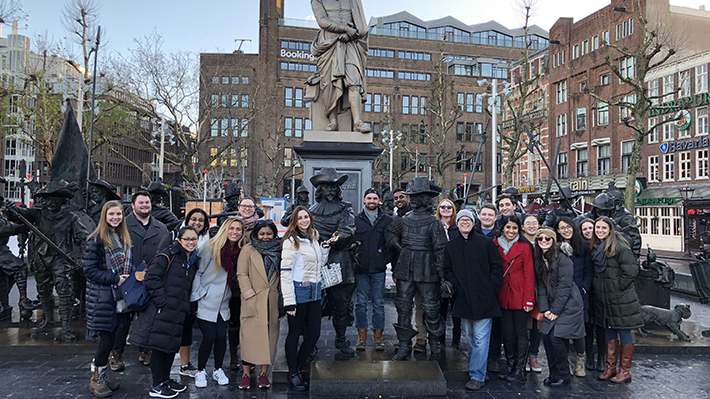 From Philadelphia to Amsterdam: Business Solutions Across the Globe
Forty-four class hours, more than 750 hours outside of class, and 3,700 miles traveled: the dedication of a Drexel student.
Eighteen undergraduate students from the LeBow College of Business, the College of Computing and Informatics, and the College of Arts and Sciences traveled to Amsterdam, The Netherlands and Brussels, Belgium in December 2017 to conclude an experiential learning highlight of their Drexel experience. The students participated in LeBow's international consulting residency course, which combines a project-based consulting class and international travel. Throughout the quarter, students interacted virtually with their client, BlueCielo ECM Solutions, leading global provider of software solutions to monitor and control asset information throughout the asset lifecycle. Company team members from around the globe interfaced with the students, who were tasked with developing recommendations for business challenges at the organization. Headquartered in Hoofdorp, Netherlands, just outside of Amsterdam, the company welcomed Drexel's students to present business solutions during their one-week trip abroad.
Over the course of the fall quarter, students worked in teams to produce 20 deliverables for BlueCielo. Projects included: recommending a pricing strategy for a new product, enhancing internal communications and employee engagement throughout BlueCielo's global offices, applying customer usage analytics to a marketing strategy, and providing methods for attracting and retaining young talent. Deliverables included an original multi-language video stating company values, a user dashboard, and three employee engagement networks.
"Experiential learning is at the heart of much of our work in LeBow," said Christopher Finnin, Ed.D., Clinical Professor of General Business, who led the student teams as the course instructor. "This course adds a very practical element of real-world experience, forcing students to consider time change differences as well as cultural norms that might be different from those of their client. This real-world approach mirrors what many students experience on co-op."
In addition to presenting their recommendations, the students also partook in other business and cultural experiences while abroad. In Amsterdam, students received a tour of the Amsterdam Stock Exchange, the oldest stock market in the world. In Belgium, students gained insight into the Brussels startup scene, discussed EU trade policy and practices at the European Commission, and learned the tasty history of Belgian chocolate. The combination of an on-campus course and international residency encourages students to develop practical business solutions within the larger business and cultural context of an international region.
Echoing the value of a real-world experiential learning approach, Dominique Nyzio '18, a senior International Business and Technology Innovation Management major, described the course as "an extremely valuable opportunity in learning how to manage a team of students, solve real-world business challenges, and formally present recommendations to international clients."
For some students, such as Anthony Silvestri '18, a senior Information Technology major, the experience is so impactful that he participated twice. Silvestri took part in the prior year's course in which students consulted for a startup in Prague, Czech Republic. "Working with a team of individuals from various backgrounds to develop integrated solutions for our client, I have developed skills that will benefit me after graduation as I begin a career in consulting," Silvestri explains. "The unique learning experience of this course is the reason I decided to take the course again this year."
BlueCielo CEO Willem-Jan Scholten was among the company leaders in attendance at the students' presentation. "We were highly impressed with the level of commitment, enthusiasm, and professionalism of the Drexel University students, who also showed creativity in generating a range of innovative ideas relevant to the areas of our business that they surveyed, which included corporate strategy, R&D, and human resources. We thank Drexel for its effective program," said Scholten, "and we personally thank the students for their exceptional performance."