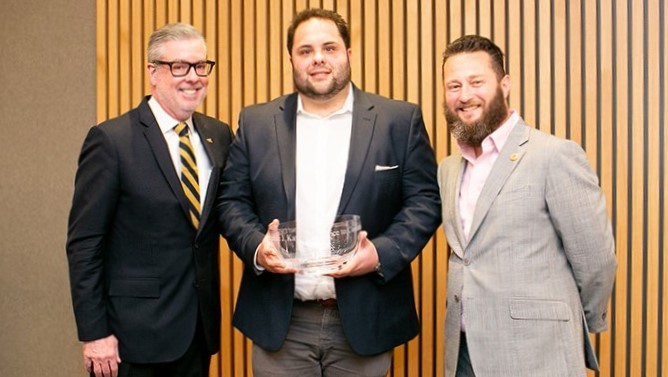 LeBow Alumnus Honored With Service to Community Award
Penn State Brandywine Men's Basketball coach and Drexel University alumnus Benjamin Kay says he is proof that basketball can take you places.
Recently honored with the Service to Community award by Drexel University Alumni Association for his work with Treasure Beach Jamaican Youth Basketball Camp, Kay credits his love of the game and the social aspect of the sport with helping him connect with different communities and access opportunities he could have never imagined.
Kay co-founded the basketball camp with two friends in 2012 through Philadelphia Men's Basketball League in an effort to make the league more philanthropic. The group set out to start the basketball camp through a connection on the island, and what started as a smaller camp with a few coaches who wanted to use the sport for social change quickly became a staple in the community. Through collaboration with churches and youth groups, the camp was able to increase its yearly enrollment over the years. Kay currently oversees over 40 staff members and 1,000 campers annually during the week-long event. As the camp approaches its seventh year, Kay says its "one team, one dream" motto remains at its core. Accepting participants ages 5-25, the camp's open-enrollment policy allows it to have a larger impact and provide resources to a greater number of students while still being able to retain attendees.
"You can definitely see that what we've done has helped this community. We've definitely seen the kids begin to mature and grow up over the years," said Kay. "It's become a part of the culture there and it's definitely something they look forward to just as much as we do. You get as much from them as you give to them."
Though the social impact is measurable, the camp has done more than just teach the participants basketball and interpersonal skills. It has raised over $50,000 each year to provide a wide range of supplies from shoes and jerseys to basketballs and solar powered lights. But as the camp grows, so does its goals. This year, Kay and his team plan to build an entirely new basketball court and facilities for the camp, provided they meet their fundraising goals. For Kay, providing this resource to the students is giving them a gift they can use to transform their lives in the same way basketball has transformed his.
"Basketball is my life," says Kay. "Basketball has helped me make friends and meet people – it's the largest networking tool for me. Without basketball, I wouldn't have met so many amazing people or accomplished as much as I have, including making the new friends I met in Jamaica."
For Kay and the participants, basketball is the gift that keeps on giving.