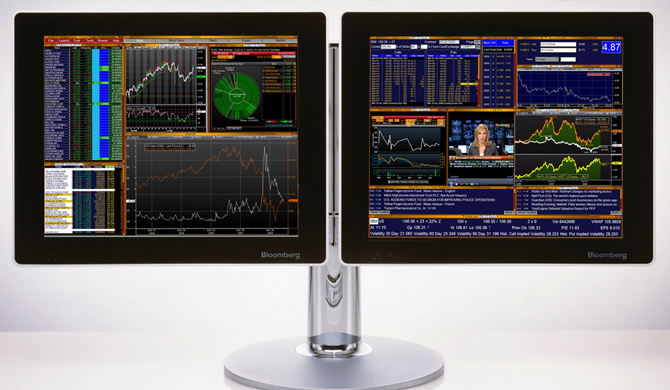 LeBow Debuts Bloomberg Terminals
Learning to work with cutting-edge, industry-standard software can be a huge hurdle as students move into the workforce. With the recent acquisition of 12 Bloomberg terminals, Drexel LeBow students now have access to financial news and research technology that few encounter until they've left school.
The terminals, located in Gerri C. LeBow Hall room 137 and the adjacent terminal room, combined with available access to FactSet software from any computer with an internet connection, give students access to the two leading news and research platforms for financial professionals worldwide. "Drexel LeBow is one of the few schools where students have access to both," LeBow finance professor Daniel Dorn explains, "Whether you are an accounting, economics, finance, management, marketing or operations major, getting acquainted with one or both of these platforms can help you research your next project, gather information for your job search or earn Bloomberg or FactSet certifications to stand out on the job market."
Students now have full access to Bloomberg Professional Service at computers with a Bloomberg keyboard in room 137 and the adjacent terminal room. To get started with Bloomberg, one needs to simply open the software and create an account (by clicking on the corresponding link on the welcome page and signing up using one's Drexel email address).
Representatives from FactSet and Bloomberg will be on campus Wednesday, Feb. 4, to offer tutorials and answer questions about their respective systems. Students are encouraged to register in advance for the Bloomberg and FactSet demonstrations.